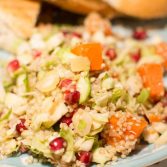 Shredded Brussels Sprout, Sweet Potato and Pomegranate Quinoa Salad
I'm learning that I love quinoa in salads, as well as brussels sprout salads! Seriously, they taste so good and can easily be dressed up/disguised so even those brussels sprout haters, like my dad, will end up enjoying it. I paired this with some poppyseed dressing, and it went together perfectly.
Ingredients
8 oz. Brussels sprouts, thinly sliced (about 4 cups)
1 cup cooked quinoa
1 large sweet potato, or butternut squash peeled, diced into cubes and cooked (about 2 cups)
1/2 cup pecans (or other desired nut), toasted and roughly chopped
Arils of 1 pomegranate (about 2 cups)
Instructions
1
Preheat oven to 400 degrees. Cube sweet potato, bake for 20-25 minutes, or until fork tender. Halfway through baking stir the sweet potatoes.
2
Cook quinoa according to package directions
3
Place Brussels sprouts, quinoa, sweet potato, pecans, and pomegranate arils in a bowl. Pour dressing over top and toss to evenly coat.
OurKindofWonderful