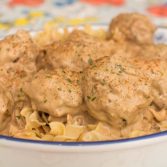 Swedish Meatballs
K loves Swedish Meatballs, and ever since we went to Ikea like, 3 or 4 years ago, and they had Swedish Meatballs, and he mentioned how much he loves them I've been looking for a good recipe, and planning to make them. Well, it took me 5 years of marriage, but I finally made them for him! He says they are DIVINE. We served them over egg noodles, but you could serve them with rice or potatoes too.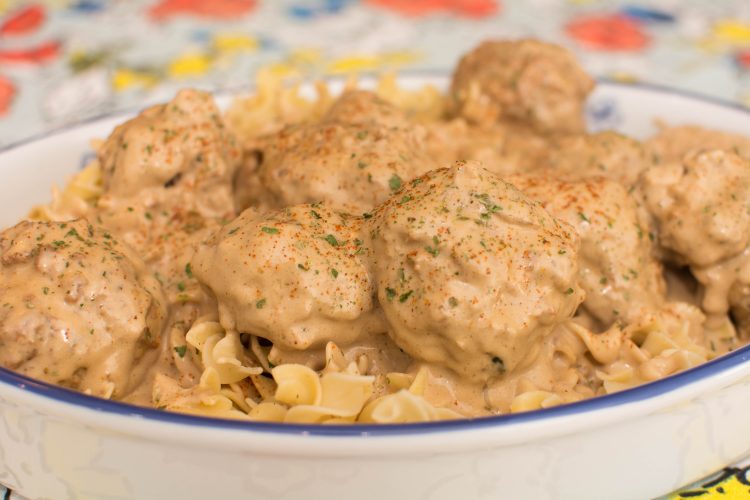 Ingredients
1 lb. turkey burger
1/4 cup panko bread crumbs
1 Tbsp. chopped parsley
1/4 tsp. ground allspice
1/4 tsp. ground nutmeg
1/4 cup onion, finely chopped
1/2 tsp. garlic powder
1/8 tsp. pepper
1/2 tsp. salt
1 egg
1 Tbsp. olive oil
5 Tbsp. butter
3 Tbsp. flour
2 cups beef broth
1 cup heavy cream
1 Tbsp. Worcestershire sauce
1 tsp. dijon mustard
egg noodles or rice, prepared according to package directions, for serving
dried parsley and crushed red peppers, for serving
Instructions
1
Preheat oven to 350 degrees.
2
In a medium sized bowl combine ground turkey burger, bread crumbs, parsley, allspice, nutmeg, onion, garlic powder, pepper, salt and egg. Mix until combined.
3
Roll into 18 meatballs. Spray 2 baking sheets, divide meatballs between the two. Bake the meatballs at 350 degrees for 20-25 minutes.
4
Meanwhile, add 4 Tablespoons butter and flour to skillet and whisk until it turns brown. Slowly stir in beef broth and heavy cream. Add worchestershire sauce and dijon mustard and bring to a simmer until sauce starts to thicken. Salt and pepper to taste.
5
Add the meatballs back to the skillet and simmer for another 1-2 minutes. Serve over egg noodles or rice. Top with parsley and red pepper flakes, as desired.
6
Recipe adapted from: http://therecipecritic.com/2016/08/the-best-swedish-meatballs/
OurKindofWonderful