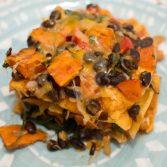 Sweet Potato and Black Bean Enchiladas
These veggie enchiladas reheat well, and are another of those vegetarian meals that don't leave you starving within like, an hour, which is a must for me. I don't like enchiladas normally, as the tortillas get all mushy, and they're just gross, but even after using these for work lunches and reheating they didn't get mushy! You can serve with other toppings as desired, or even swap out some veggies in the actual enchiladas – the options are pretty endless.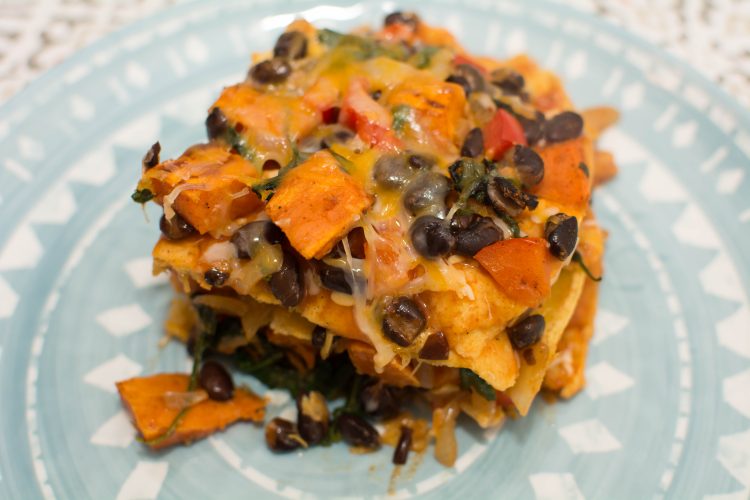 Ingredients
2 sweet potatoes, peeled and diced
1 Tbsp. olive oil, divided
1/2 small yellow onion, diced
1 red bell pepper, seeds removed and diced
1/2 tsp. minced garlic
3 cups packed spinach leaves
1 (15 oz) can black beans, rinsed and drained
1 tsp. ground cumin
1 1/2 tsp. chili powder
1/4 tsp. dried oregano
pinch of cayenne pepper
1 Tbsp. lime juice
1/3 cup chopped cilantro
1 - 2 (10 oz) cans Old El Paso mild red enchilada sauce
10 small corn tortillas
2 cups shredded Mexican cheese blend
1 avocado
sour cream, for serving
salsa, for serving, if desired
Instructions
1
Preheat the oven to 400 degrees . Place the sweet potatoes on a large baking sheet that you've sprayed with non-stick spray. Season with salt and pepper, to taste. Roast sweet potatoes for 15-20 minutes, or until tender, stirring occasionally. You can check tenderness by poking them with a fork. Remove sweet potatoes from oven and set aside. Reduce oven temperature to 350 degrees F.
2
While the sweet potatoes cook you'll want to start on the rest of the Heat a large skillet over medium-high heat and add 1 tablespoon of olive oil, then add the onion and red pepper. Cook until tender, about 3 minutes. Stir in the garlic and spinach leaves and cook until spinach leaves are just beginning to wilt, about 3 minutes. Add the black beans, cumin, chili powder, oregano, cayenne, lime juice, and cilantro. Season with salt and pepper, to taste. Remove from heat and stir in the roasted sweet potatoes.
3
Grease an 8×8 square baking pan with nonstick cooking spray. Spread 1/4 cup of enchilada sauce into the bottom of the baking pan. You will be layering the enchiladas. Add a layer of tortillas, completely covering the bottom of the pan, cutting them to make them fit if necessary. Top with a little more enchilada sauce (we did about 1/2 to 3/4 cup) You'll do this for 2 more layers. Spray a sheet of aluminum foil with cooking spray and cover the pan.
4
Bake the enchiladas for 10 minutes. Remove the foil and bake for another 10 minutes, or until cheese is melted and the enchiladas are bubbling. Remove enchiladas from the oven and let cool for 10 minutes. Top with diced avocado, sour cream, and salsa if desired. Cut into squares and serve warm.
5
Recipe adapted from: http://www.twopeasandtheirpod.com/stacked-sweet-potato-and-black-bean-enchiladas/
OurKindofWonderful