Zucchini, Banana, and Blueberry Muffins
We take muffins to work for breakfast a lot, but our usual blueberry or apple muffins can get old after a while. I mean, they're delicious, but variety is always a plus. These muffins are so tasty, and I love the variety of flavors! You may have to cook them a bit longer due to all the wet ingredients (zucchini, bananas, blueberries that leak juice a bit) so just keep that in mind. It can vary from oven to oven.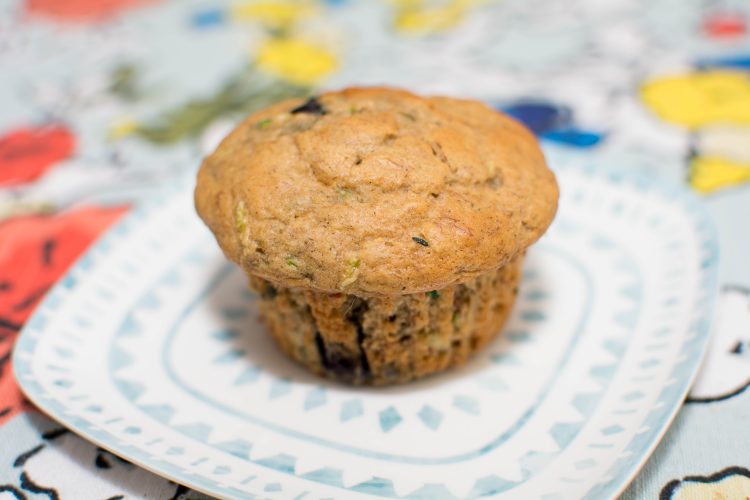 Ingredients
1 1/2 cups all purpose flour
3/4 tsp. baking powder
3/4 tsp. baking soda
1/2 tsp. salt
1 tsp. ground cinnamon
1 cup mashed bananas (about 2 medium bananas)
1/4 cup granulated sugar
1/4 cup packed brown sugar
1 large egg
1/3 cup melted coconut oil, cooled to room temperature
1 tsp. vanilla extract
1 cup shredded zucchini
1 cup blueberries
Instructions
1
Preheat your oven to 350 degrees. Get your muffin tins ready by lining them with paper liners, or spraying with cooking spray.
2
In a medium sized mixing bowl, whisk together the flour, baking powder, baking soda, salt, and cinnamon. Set aside.
3
In a large mixing bowl combine the mashed bananas, granulated sugar, brown sugar, eggs, coconut oil, and vanilla. Stir until it's well combined.
4
Add the banana mixture to the flour mixture. Using a rubber spatula stir gently to combine until flour is mixed in.
5
Fold the zucchini into the batter, then fold in the blueberries.
6
Pour the batter into prepared muffin tins, about 3/4 full. Bake until a toothpick inserted into the center comes out clean, 22-25 minutes. Cool muffins on a wire cooling rack.
7
Recipe by: https://www.twopeasandtheirpod.com/zucchini-banana-blueberry-muffins/
OurKindofWonderful