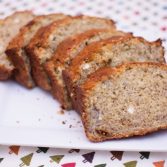 Banana Bread
I am constantly buying bananas, in an effort to add more fruit to our diets, and at least every other time we forget that we have them, until they are way past the point that you can eat them, without them being mushed up in bread. Luckily, I have a go to banana bread recipe that we love, so it makes our eating fresh banana failure not as big of a deal. We have tried numerous banana bread recipes, and this is by far our favorite!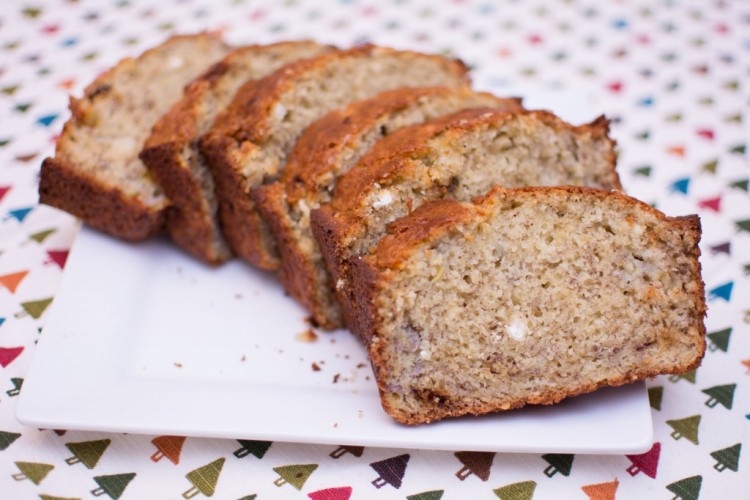 Ingredients
6 Tbsp unsalted butter, at room temperature
1 cup sugar
3 very ripe bananas, coarsely mashed
3 large eggs
1/2 cup buttermilk *we never have buttermilk, so it's 1 tsp. lemon juice to 1 cup milk, sit for 10 min to make your own*
2 cups all purpose flour
1 tsp. baking soda
1 tsp. baking powder
1 tsp. ground nutmeg
1/2 tsp. salt
3/4 cup chopped walnuts, optional
Instructions
1
Preheat the oven to 350 degrees. Spray a 9×5 loaf pan with non stick spray.
2
In a bowl beat together the butter and sugar until creamy. Add the bananas and eggs, and continue to mix until smooth. Add the buttermilk, and mix just until combined.
3
In a separate bowl, stir together the flour, baking soda, baking powder, nutmeg, salt, and nuts. Add the flour mixture to the banana mixture and beat just until combined. The batter will be slightly lumpy. Be sure to scrape the sides of the bowl and mix thoroughly.
4
Pour the batter into the greased bread pan, filling it no more than 2/3 full. Bake until the top of the bread is golden brown and dry to the touch, 55-60 minutes (we do 1 hour 10 minutes). If the top of your bread is getting done too quickly cover it, loosely, with tin foil. When done, a toothpick inserted into the center should come out clean. Let stand for 5 minutes before removing bread from pan and cooling on a wire rack. Enjoy!
OurKindofWonderful