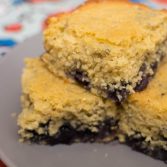 Blueberry Cornbread
I've never been a huge cornbread lover, but K would talk about this blueberry cornbread he had when he served a mission in California. I was intrigued. So, many failed attempts later, we have this delicious blueberry cornbread recipe! It's our go to side to have with chili. And, it's super easy to make – you'll probably want to double it :]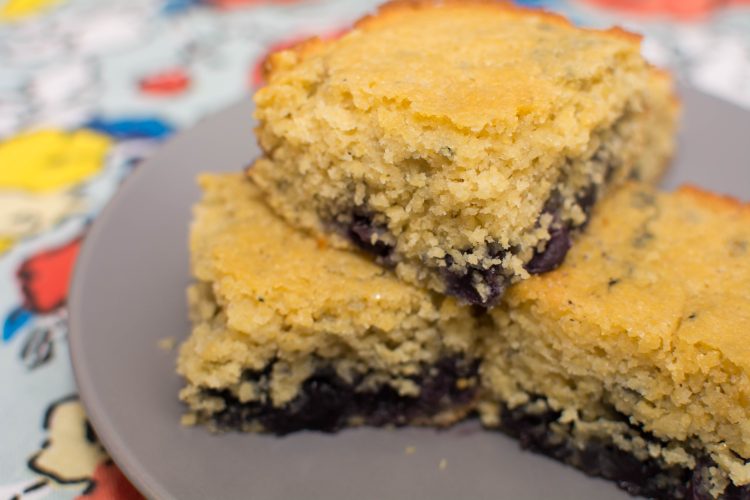 Ingredients
1 cup yellow cornmeal (stone/course ground works best)
1 cup all-purpose flour
1/4 cup white granulated sugar
1/4 cup packed light brown sugar
1/2 teaspoon salt
1/2 teaspoon baking powder
1/2 teaspoon baking soda
2 large eggs
1 1/4 cups buttermilk
1 tablespoon vanilla extract
6 tablespoons unsalted butter
1 1/2 cups fresh blueberries, divided (can use frozen too)
Instructions
1
Preheat the oven to 325 degrees F. Spray an 8-inch square pyrex or metal pan with nonstick spray.
2
In a large bowl, whisk together the cornmeal, flour, sugars, salt, baking powder and baking soda.
3
In a small bowl, whisk together the eggs, buttermilk and vanilla. Add to the dry ingredients, then pour in the melted butter too. Mix just until incorporated (don't over-mix). Stir in 1 cup of the blueberries. Scatter the remaining 1/2 cup of blueberries on top.
4
Pour the batter into the prepared pan and bake for 40 minutes, or until the edges turn golden and a toothpick inserted into the middle comes out mostly clean.
OurKindofWonderful