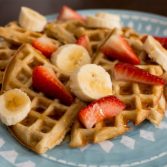 Banana Cinnamon Waffles
These banana cinnamon waffles are so good and easy to whip up! We love trying out new breakfast foods on the weekends, and it's fun to not always do something elaborate. These are tasty, and you could top them with Nutella (it's good on everything I'm pretty sure), fruit, anything really!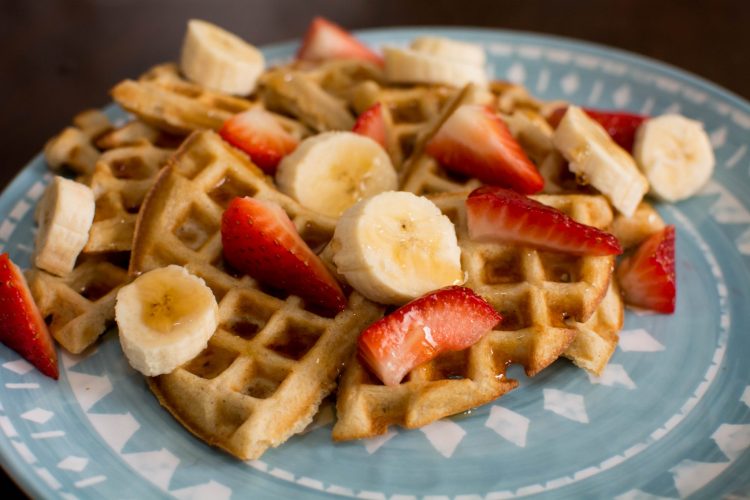 Ingredients
1 1/2 cups all purpose flour
1/2 tsp. salt
2 tsp. baking powder
1 tsp. cinnamon
1 1/2 cups milk
2/3 cup vegetable oil
2 eggs, divided
2 mashed bananas
1/2 tsp. vanilla
2 Tbsp. granulated sugar
Instructions
1
Preheat your waffle iron.
2
In a large bowl combine the flour, salt, baking powder, and cinnamon.
3
In a medium bowl mix together the milk, vegetable oil, egg yolks, and mashed bananas
4
In another medium size bowl beat the egg whites with an electric mixer until soft peaks form. Add in the vanilla and sugar, and continue to mix until stiff peaks form.
5
Add the milk mixture to the dry ingredients and mix until fully combined. Fold in the egg whites.
6
Pour enough batter onto the preheated waffle iron to coat the surface, normally about 1/4 to 1/2 cup. Cook to your desired doneness.
7
Serve immediately. We like to top ours with bananas and strawberries.
OurKindofWonderful