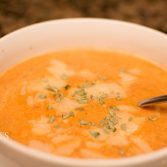 Better than Zupas Tomato Soup
I have never been a big tomato soup person. In fact, the only tomato soup I really liked was from Cafe Zupas, and then we tried this recipe on a whim. Oh. My. Gosh. This soup is amazing. I will actually continue to eat it after my grilled cheese is gone, which never happens, and it is rich, and filling, and just perfect. This has fast become a quick favorite of ours, and one of our go to recipes.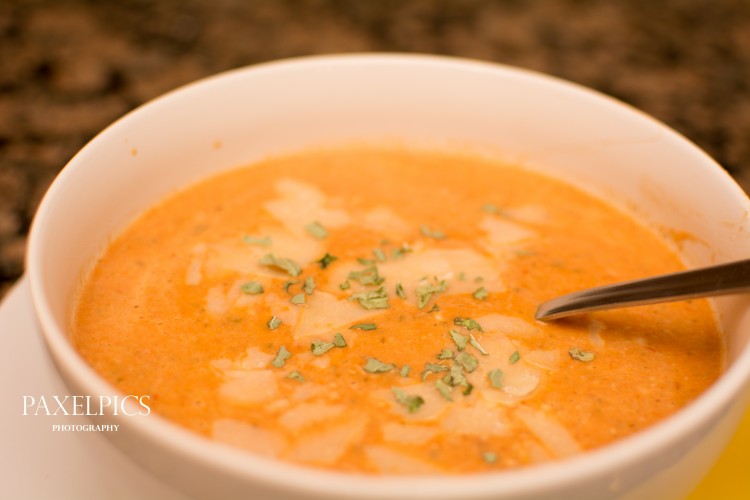 Ingredients
1 (28 oz) can crushed tomatoes
1 (10 oz) can tomato sauce
1/4 cup dried basil
1 1/2 tsp. minced garlic
1 Tbsp. salt
1 tsp. pepper
1 medium white onion, diced
1 cup heavy cream
1 to 1 1/2 cups shredded parmesan cheese
--Roux--
3 Tbsp. butter
1/4 cup flour
1 cup heavy cream or half & half
Instructions
1
Add tomatoes, tomato sauce, and next 7 ingredients (through broth) to a slow cooker/crockpot.
2
Cover and cook for 2 hours on high or 4-8 hours on low.
3
About 30-40 minutes before serving transfer soup to a blender or food processor and puree until smooth, then return to crock pot.
4
Prepare the roux. Begin by melting the butter in a medium sauce pan over medium heat.
5
Add flour to melted butter and stir until flour clumps up. Slowly whisk in the heavy cream (or half & half) until mixture is thickened and smooth.
6
Add roux and parmesan cheese to crockpot and stir to combine.
7
Allow to cook another 20-30 minutes until cheese is completely melted. Stir before serving.
8
Top with additional basil and parmesan cheese if desired.
OurKindofWonderful