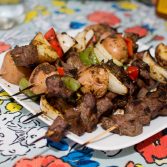 Brazilian Steak Kabobs with Veggies
We made these for K's birthday in July, and have already made them a handful of times since! These are beyond delicious, and a meal where we actually look forward to the leftovers! A even loved them, clearing her plate and hollering for me. You could make these on the stove instead of the grill if desired, we just love how grilled food tastes.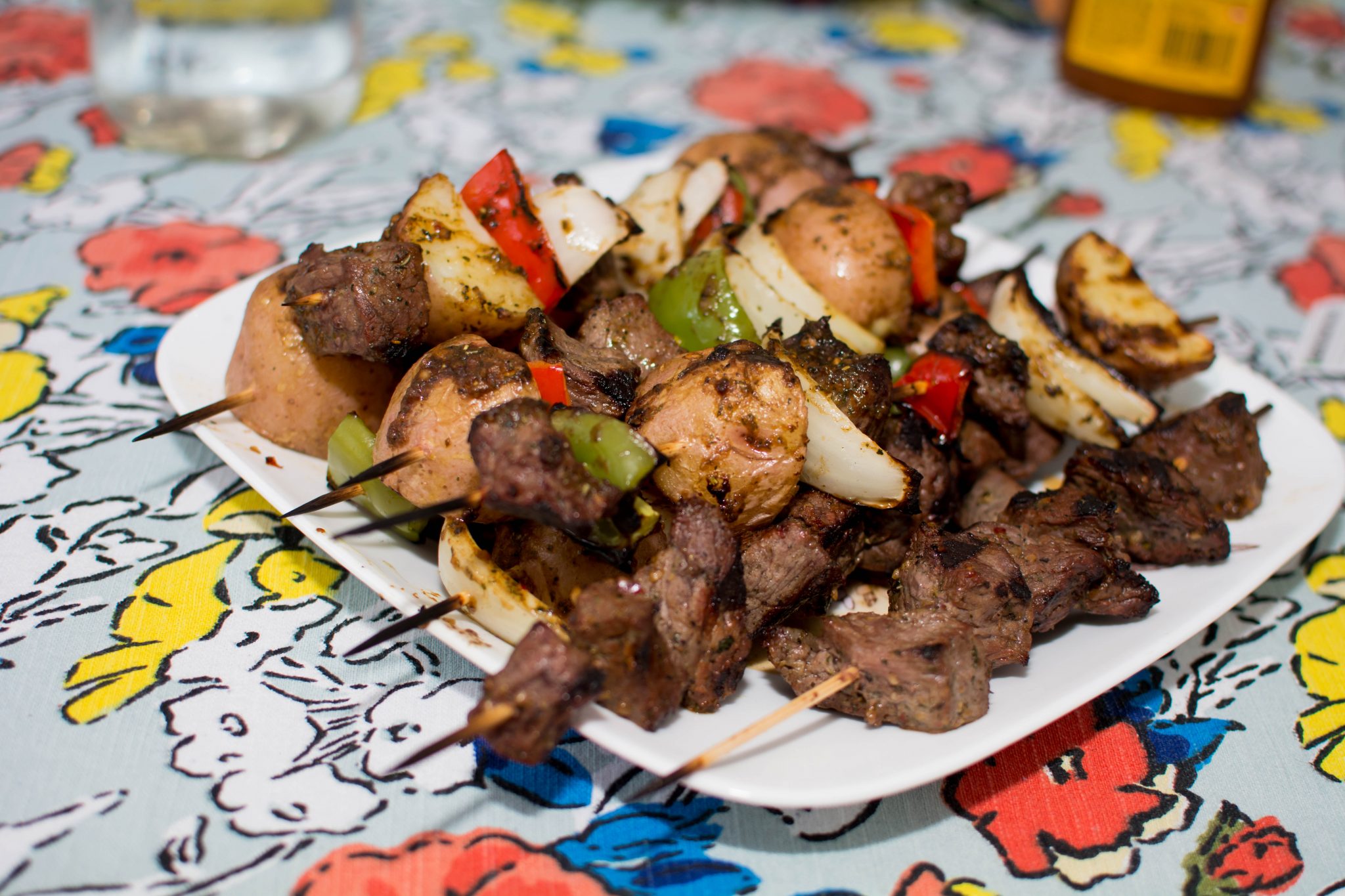 Ingredients
--Kabobs--
1-1/2 lbs. top sirloin or tri tip roast (cut into 1/2" cubes)
1 lb. red potatoes, cut into 1/2" - 1" pieces
1 red bell pepper, cut into large 1-1/2" pieces
1 green bell pepper, cut into large 1-1/2" pieces
1 onion, cut into 1-1/2" pieces
--Marinade--
1 package McCormick Grill Mates Brazilian Steakhouse Marinade
1/4 cup olive oil
2 Tbsp. low sodium soy sauce
2 Tbsp. Worcestershire sauce
1 Tbsp. lime juice
--Cilantro Lime Rice with Black Beans--
2 Tbsp. olive oil
1/2 cup chopped red onion
1-2 jalapenos chopped and seeded
3 cloves garlic
1 tsp. ground cumin
1-1/2 cups long grain rice, rinsed and drained
3 cups chicken broth
1 14.5 oz can black beans, rinsed & drained
3 Tbsp. minced diced green chilis
salt & pepper to taste
1-2 Tbsp. butter (optional)
1/2 cup loosely packed cilantro, chopped
2 Tbsp. lime juice
Instructions
2
Whisk all of the marinade ingredients together in a large bowl. Remove 1/4 cup (to use for basting vegetables later). Add the beef to the remaining marinade, turning to be sure it's fully coated. Marinate 4-6 hours in the refrigerator.
3
Grab your potatoes and put them into a large microwave safe bowl. Add 2 Tbsp. of water to the bowl, then microwave, covered, 4-6 minutes or just until fork tender and then drain.
4
Add the peppers, onions, 2 Tbsp. of reserved marinate, 2 Tsp. olive oil, 1/2 tsp. salt, and 1/4 pepper to the bowl with the potatoes. Toss to coat, then refrigerate.
5
Make the rice before assembling.
7
Heat 2 Tbsp. olive oil in a nonstick skillet over medium heat. Add in the red onions and jalapenos, then saute for 3-5 minutes, or until tener.
8
Add the garlic and cumin, then continue to saute for 30 more seconds (you can add more oil if needed). After 30 seconds add in the rice, saute for a few seconds, then add in the beans, green chilies, and chicken broth - bring to a boil.
9
Reduce the heat to low - simmer, covered, for about 20 minutes, or until the rice is tender. Be sure to stir at the 15 minute mark.
10
Remove from the heat and let the rice sit, covered, for 5 minutes. Stir in butter to melt (optional) and season with salt and pepper to taste. Stir in lime juice and cilantro.
11
--Assembly of Kabobs--
12
Be sure to have soaked your wooden skewers in water for at least 30 minutes before proceeding.
13
Preheat your grill to medium-high heat.
14
Put your beef and veggies onto the skewers as desired.
15
Grill kabob stuffed skewers until they are lightly charred all over, approximately 2-3 minutes per side, basting with remaining marinade halfway through cooking.
16
Serve immediately with rice; enjoy!
17
Recipe from: http://carlsbadcravings.com/brazilian-steak-kabobs-with-potatoes-peppers/
OurKindofWonderful