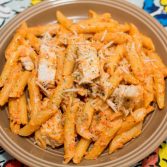 Roasted Red Pepper and Basil Pesto Penne
This is a recipe I started to make when we were first married, and now, 5.5 years later we still love it! It's definitely one you want to keep around, as it is delicious and fast. I'm sure you could substitute with other peppers if you wanted, but I love the taste of the reds.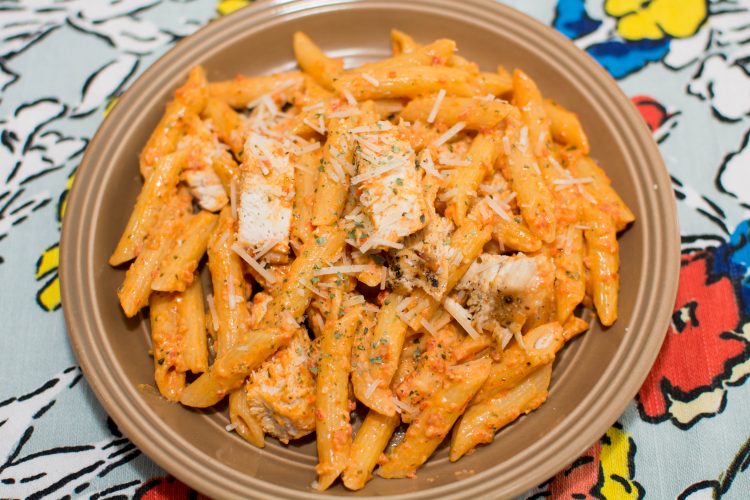 Ingredients
4 cloves garlic
1/3 cup pine nuts
1/3 cup freshly grated Parmesan cheese
1 cup of jarred roasted red peppers, drained
1 cup fresh basil leaves
1/2 cup olive oil
1 lb. penne pasta
1/2 cup heavy cream
2 chicken breasts
lemon pepper seasoning, to season chicken
Instructions
1
Add the garlic and pine nuts to a food processor and pulse until they are a fine paste, then mix in the Parmesan cheese and set aside.
2
In the food processor add the red peppers and basil, pulse, then mix with the garlic, pine nut, and Parmesan cheese mixture - set aside.
3
Season your chicken with lemon pepper seasoning, then grill until cooked through. Cut into strips or bite size pieces. Set aside.
4
Cook the pasta according to the package directions. Drain the pasta, then return it to the pot. Add the pesto mix you made, 1/2 cup heavy cream, and chicken. Stir to combine and cook on medium low until heated through.
5
Top with additional Parmesan cheese if desired. Enjoy.
OurKindofWonderful