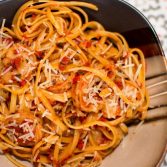 Sun-dried Tomato Basil Shrimp Pasta
We finally decided to adult and clean out our chest freezer the other day, and oh man, did we have a ton of food we forgot about, and a lot so old we had to toss it. Mixed in al of this was a lot of shrimp we'd bought for various meals for K but never used. So, this month he's been shrimp spoiled, and loving it. A too, she's loves seafood which I am sooo happy about. Really trying to have her eat more like K, and not be picky like me. We whipped up this pasta dish for them, and they both devoured it in record time. It's one you want to have everything on hand for as it's fast enough to be a great last minute meal.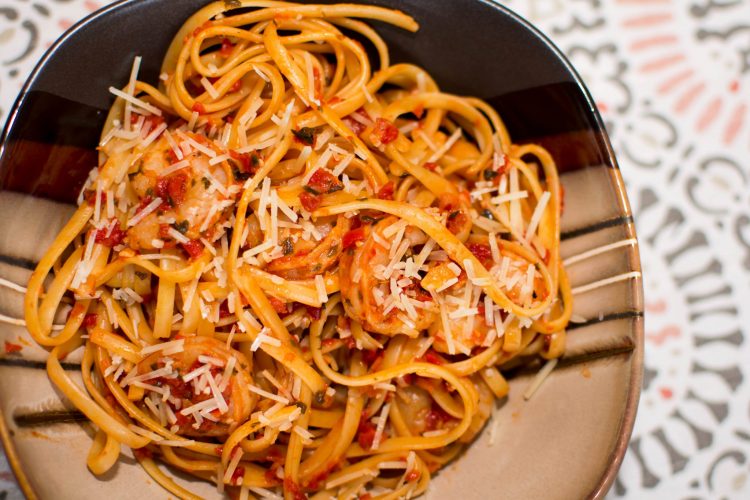 Ingredients
1 lb. linguine pasta
1 lb. large shrimp, peeled and deveined
1 cup water, reserved from pasta water
1/2 cup grated Parmesan cheese
--Sun-Dried Tomato Basil Pesto--
1 (8.5 oz) jar sun-dried tomatoes
1 cup fresh basil leaves, packed
3 cloves garlic, minced
1 small shallot, peeled
2 Tbsp. almonds
1 Tbsp. balsamic vinegar
1 Tbsp. tomato paste
1/2 tsp. red pepper flakes
1/2 tsp. oregano
1/2 tsp. pepper
Instructions
1
Cook the pasta according to package directions. Reserve 1 cup of the pasta water, set aside.
2
Add all of the sun-dried basil pesto ingredients to a food processor and process until finely chopped.
3
Using a large skillet, heat over high heat. Once it's hot add the pesto and saute for a minute. Then, add in the shrimp, continuing to saute as the shrimp cook, until they become opaque. Stir in the parmesan cheese and pasta - toss to coat. Add enough reserved pasta water to moisten to your desired consistency.
4
Top with Parmesan cheese and enjoy.
OurKindofWonderful