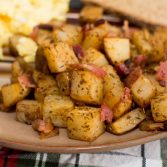 Breakfast Potatoes
Breakfast is a meal we are constantly trying to change up, even in little ways like with a new way to cook potatoes. Quick and filling is important to us, as K cooks breakfast every week day and has it ready for me before I head to work, and I cook it on the weekends. These potatoes definitely hit the spot! And, sometimes we like to top ours with cheese. With their flavor they go perfectly in breakfast burritos too, adding a little extra punch.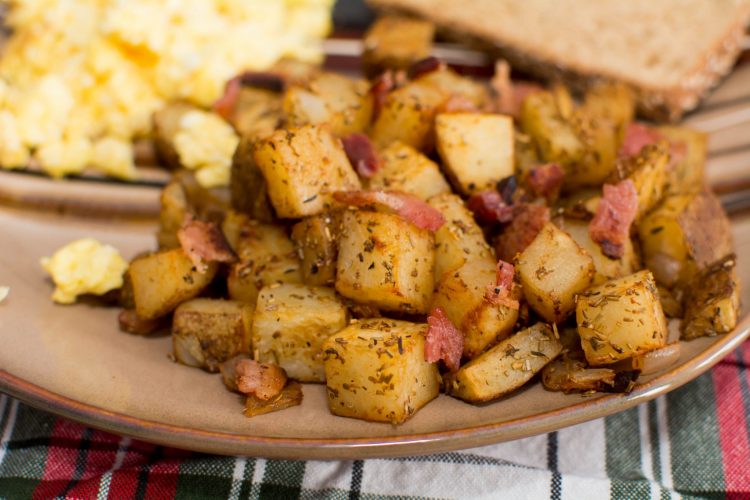 Ingredients
2 lbs. red potatoes, cut into bite size pieces
5-6 slices of bacon, cooked and crumbled
1 yellow onion, diced
1-2 Tbsp. olive oil
2 Tbsp. fresh rosemary, minced
1 tsp. smoked paprika
1/2 tsp. dried thyme
1 tsp. salt
pepper, to taste
rosemary for topping
thyme for topping
Instructions
1
Preheat oven to 400 degrees and line a rimmed baking sheet with parchment or wax paper.
2
Using a skillet cook the bacon slices to your desired doneness. Remove from the skillet with a slotted spoon, then dab the bacon with a paper towel to remove the grease.
3
Grab a large bowl and combine the potatoes, onions, seasonings and herbs and olive oil. Toss evenly, making sure you fully coat the potatoes.
4
Arrange in single layer on your lined baking sheet. Bake for about 20 - 30 minutes, tossing halfway through, until potatoes are golden brown and crispy.
5
Top with crumbled bacon pieces, rosemary, and thyme as desired. Enjoy.
OurKindofWonderful