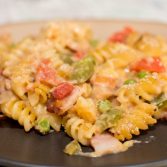 Cajun Tuna Pasta Bake
I'm not a tuna fan, at all. In our 5 years of marriage this was the first time I've ever bought, or cooked with tuna, and it was all for K. I've changed in 5 years, but not enough to make me a tuna eater. K loved this recipe, and the best part for me, it didn't have an overwhelmingly fishy smell when I took it out of the oven. So, if you like tuna and that sort of thing, K says you'll love this recipe :].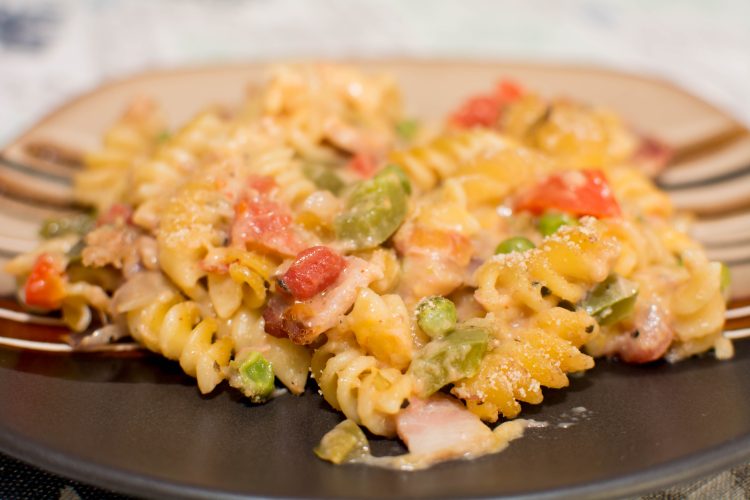 Ingredients
12 oz rotini cooked al dente
1 Tbsp. olive oil
1 Tbsp. butter
1/2 red onion, chopped
1 red bell pepper, chopped
1 green pepper, chopped
1 tsp. minced garlic
1/2 tsp. red pepper flakes
1/4 cup flour
2 1/4 cups chicken broth, divided
1 1/2 cups milk
3 tsp. cajun seasoning
1/2 tsp. salt
1/4 tsp. pepper
1 (10 oz) can diced tomatoes with green chilis, drained
1/2 cup frozen peas
1 (5 oz) can tuna, drained
1/2 cup Parmesan cheese
1/2 cup Mozzarella cheese
1/2 cup sour cream
3/4 + cups shredded cheese, divided
1/4 cup panko breadcrumbs
Instructions
1
Preheat the oven to 375 degrees.
2
Grab a large skillet, then melt butter in olive over over medium-low heat. Add the red onions and saute for about 2 minutes, then add in the peppers and saute for another minute or two. Add in the minced garlic and red pepper flakes, then saute for another 30 seconds. Sprinkle in the flour - cook while stirring for about 3 minutes.
3
Turn the heat to low, then add in the 2 cups chicken broth and milk, slowly whisking, then once they're all added stir constantly until smooth. Once smooth, turn the heat to medium high and bring to a simmer. Add in the cajun seasoning, salt, and pepper, and continue to simmer until it begins to thicken, stirring constantly. Stir in the tomatoes, peas, and tuna, keep stirring until heated through.
4
Take it off of the heat, then stir in the Parmesan and Mozzarella cheese, until melted. Add the cooked pasta, and stir until it's well coated. If the sauce becomes too thick add in the remaining 1/4 cup chicken broth. If you like an even creamier sauce, add in 1/2 cup sour cream. Once all mixed pour half of the pasta into a 9x13 baking dish. Top with 3/4 cup cheddar cheese, then add another layer of remaining pasta.
5
Sprinkle panko breadcrumbs over the top of the pasta, then bake for 30 minutes or until cheese is melted.
6
Recipe adapted from: http://carlsbadcravings.com/cajun-bacon-tuna-pasta-bake-recipe/
OurKindofWonderful