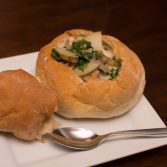 Homemade Bread Bowls
I had these bread bowls for the first time at K's parent's house for their traditional Halloween meal, and they were delicious! I quickly asked his mom for the recipe, and after a few not so great attempts I finally have it down! We've tried quite a few bread bowl recipes, and these are hands down our favorite.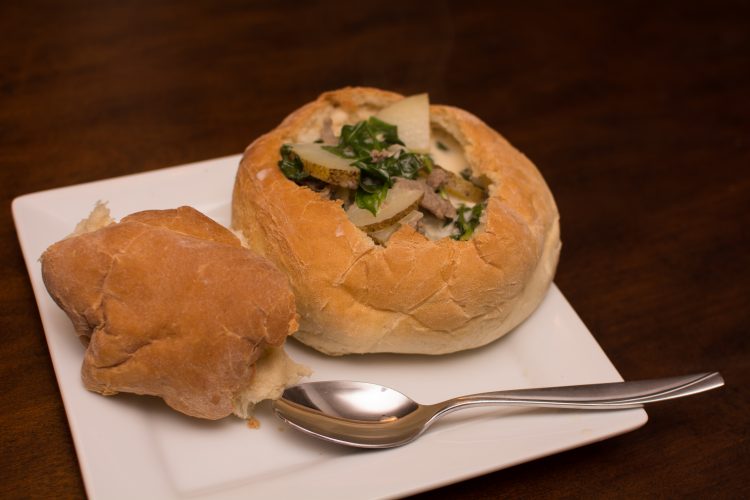 Ingredients
2 1/2 cups warm water
3 Tbsp. sugar
2 Tbsp. yeast
1 Tbsp. salt
5 Tbsp. oil
6 cups flour
Instructions
1
In a large bowl combine warm water and sugar. Sprinkle the yeast over the top, and let sit for 5 minutes. Add salt, oil, and half of the flour; beat well. Add the remaining flour - mix well. Let the dough rest for 10 minutes, then knead with your hands for 1-2 minutes, then let it rest for 10 minutes, repeating that process five times.
2
Place dough on floured surface; knead 2-3 times to coat the dough with flour. Divide the dough into 8 equal parts and work them into balls for the bread bowls. Spread the dough between two greased baking sheets, putting 4 bread bowls on each sheet, and allow to rise for 30 minutes. Bake at 400 degrees for 20-30 minutes or until lightly browned.
3
Remove from baking sheets, then slice a small piece off of the top, and hollow out the inside of the bowl. Let cool before serving.
OurKindofWonderful