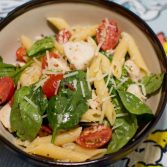 Chicken Florentine Pasta
Another win, another great recipe from The Pioneer Woman. I have 3 of her cookbooks, and stalk her blog constantly. I love her food, and even though I only know her online presence, she seems really rad. This pasta is so fast and quick, not to mention delicious. It's one you'll definitely want to print out and save.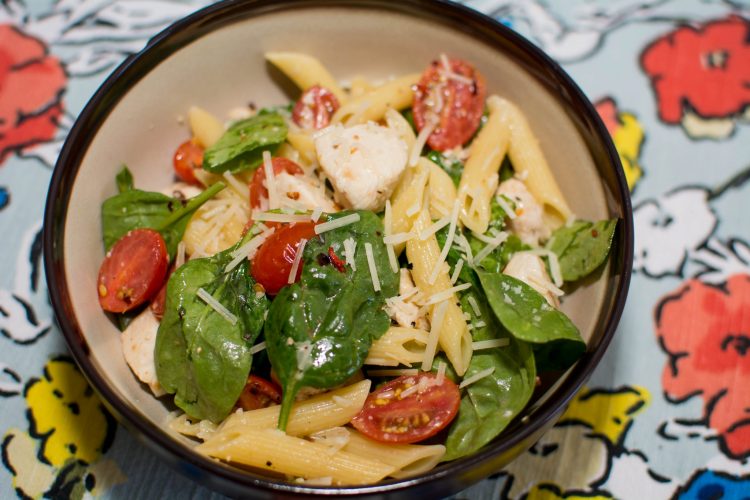 Ingredients
1 lb. penne pasta
4 boneless, skinless, chicken breasts, thawed
2 Tbsp. butter
2 Tbsp. olive oil
4 cloves garlic, minced
3/4 cups white cooking wine
3/4 cups low-sodium chicken broth (you can use more if needed)
1 bag baby spinach
2 cups grape tomatoes, halved lengthwise
4 oz. parmesan cheese
Instructions
1
Cook the pasta according to package directions; set aside.
2
Cut your chicken into bite sized cubes.
3
Grab a large skillet, heat it up on high and melt your butter, then add in the oil. Add your chicken to the skillet, in a single layer - seriously, don't stack it or they won't cook right. Let the chicken cook for a few minutes, then when browned flip and cook the other side. Once done remove the chicken from the skillet and set aside.
4
Turn the heat down to medium and add in the garlic. Stir constantly to ensure it doesn't burn, then after 30 seconds add in your cooking wine and broth. Let the mixture bubble, then continue to cook until it's reduced by about half.
5
Remove from the heat, add in the spinach, tomatoes, chicken, and cooked pasta, then toss to mix. The spinach will wilt as you toss it. Add in the parmesan cheese, then toss again to mix. Enjoy!
OurKindofWonderful