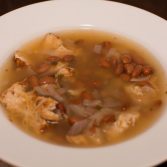 Chicken Tortilla Soup, AKA My Favorite Soup
I'm not even sure how to explain to people that aren't me how much I love this soup. I ask for it at least once a month, and if you know me, and how quickly I get sick of food, that's huge. I found this recipe back in April, and we've consistently had it at least once a month, every month, since then. Yes, I'm not even kidding you, I'm that obsessed with it, and it's that amazing. It's also so easy! (I say that, but really have no idea, K (the husband) makes it, I have yet to…) Do yourself a favor and pick up the ingredients for this soup and gorge yourself.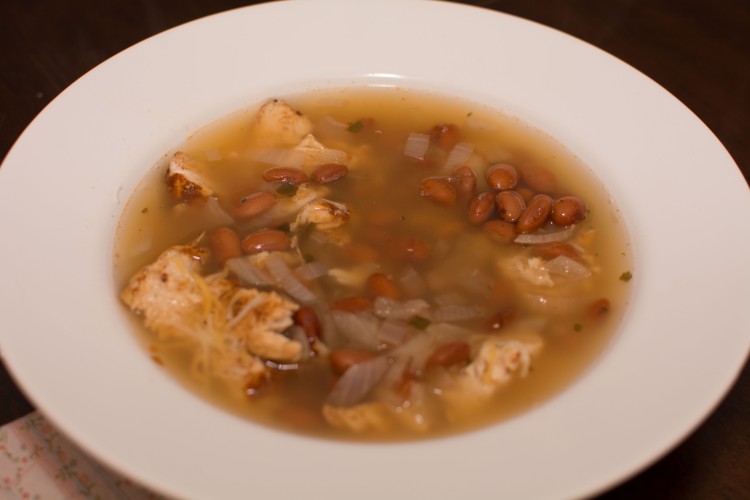 Ingredients
1 onion, diced
1 Tbsp. vegetable oil
1/2 tsp cumin
a dash (or two) of cayenne
1/2 tsp. chili powder
5 c. chicken broth
3 Tbsp. fresh cilantro, finely chopped
juice of 1/2 lime
pepper, to taste
2 cans pinto beans, drained and rinsed
2-3 boneless, skinless chicken breasts
2 Tbsp. taco seasoning
1 Tbsp. paprika
2 c. pepper jack cheese
sour cream, if desired
tortilla chips
Instructions
1
In a small skillet, saute onion in 1 Tbsp. oil until onions become slightly soft. Stir in cumin, cayenne, and chili powder and saute an additional minute or two.
2
Transfer seasoned onions to a small crock pot (or medium-sized saucepan). Add chicken broth, cilantro, lime juice, pepper and pinto beans to onions and simmer on low-heat for at least 2-3 hours.
3
In the meantime (when you are close to serving), combine taco seasoning and paprika. Brush chicken with oil and rub with taco seasoning/paprika mixture. Grill chicken over medium-heat until cooked through (try to turn only once during the grilling process). Remove from grill and cut into bite size pieces.
4
In individual bowls layer chicken with the broth mixture and a decent helping of cheese and sour cream. Top with tortilla strips.
OurKindofWonderful