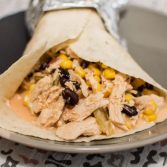 Creamy Chipotle Black Bean Chicken
We love easy, fast meals, and this one definitely fits the bill! The cream cheese makes it so creamy and helps keep the chicken feeling super soft. This meal is tasty, and so quick – you definitely want to give it a try! You could also do it in the crock pot if you prefer that :].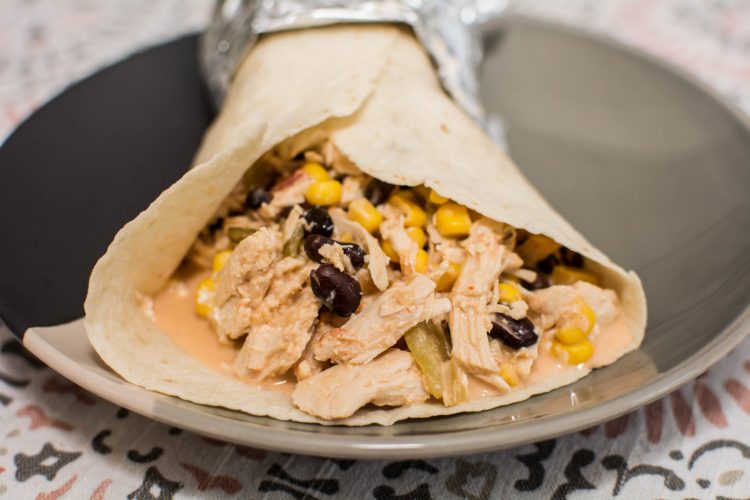 Ingredients
2 boneless, skinless, chicken breasts
3 cups chicken broth
1 (14.5 oz) can Mexican stewed tomatoes, diced
1 (15 oz) can black beans
1 (15 oz) can corn
1 (4 oz) can green chillies
8 oz cream cheese
½ tsp. Smoked Paprika
½ tsp. Chipotle Peppers and Adobo Sauce, blended
large flour tortillas
Instructions
1
Tenderize the chicken, then place into a large skillet. Pour a can of Mexican Stewed tomatoes over the chicken.
2
Pour 3 cups of chicken broth into the pan. Over high heat, bring the ingredients to a boil. Reduce the heat to medium high and cover the pan with the lid at an angle to so that some of the steam can escape. Let the chicken cook until the it is cooked through and no longer pink. Should take about 15-20 minutes depending on how thick the chicken is.
3
Remove the chicken and put it on a plate - let it sit for about 5 minutes. Keep the juices in the pan, cooking at a simmer.
4
Shred your chicken, then put it back in the skillet.
5
Rinse and drain one can black beans, one can corn and one single can of green chilis. Add them to the skillet.
6
Add one package of cream cheese, 1/2 teaspoon of smoked paprika and 1/2 teaspoon of chipotle peppers and adobo sauce. Stir together, and keep stirring occasionally until the cream cheese is melted, about 10 minutes.
7
Server burrito style in a tortilla, or it would also be good with tortilla chips.
OurKindofWonderful