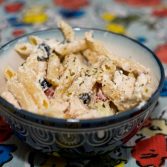 Greek Chicken Pasta
I love surprising K with a few new, fun recipes each month. I meal plan, we get all the ingredients, then I update the menu we have weekly, so it's all pretty new to him. I'll find recipes and send them to him, asking if they look good, but he never knows when they'll be on the menu. This recipe was one of those, and he LOVED it, as did A. It's so fast and easy, and is definitely a nice change from regular pasta.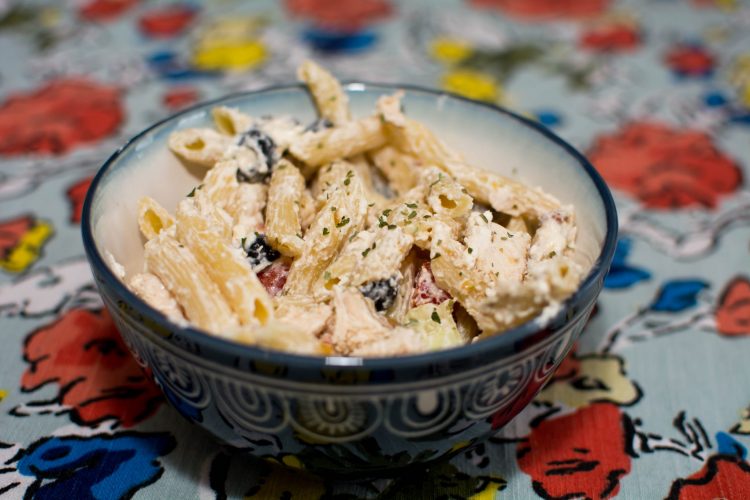 Ingredients
1 lb. penne pasta
olive oil
1 lb. boneless, skinless, chicken breasts
1 tsp. dried oregano
2 cloves garlic, minced
3/4 cup half and half
8 oz cream cheese
1/2 cup crumbled feta cheese
1 Tbsp. lemon juice
1 tsp. lemon zest
1 - 1/2 cup halved cherry tomatoes
1/2 cup pitted olives, halved
1 cucumber, chopped
1/4 cup chopped, fresh dill
parsley, for serving
Instructions
1
Cook penne according to package directions.
2
Meanwhile, grab a large skillet and heat over medium heat. Add olive oil, coating the bottom of the skillet. Season the chicken breasts with pepper and oregano, then when the oil is heated add in the chicken. Cook until the chicken is cooked through, about 6-8 minutes per side. (We actually just grill ours). Remove from the heat.
3
Stir in the garlic to the skillet you just used for the chicken, and cook for about 1 minute. Add in the half and half, cream cheese, and feta. Cook, being sure to stir occasionally or the cheeses will burn. Cook until they have melted. Stir in the lemon juice and zest.
4
Add the cooked pasta, cherry tomatoes, olives, cucumber, and dill to the cheese mixture. Toss until it's all evenly mixed. Serve warm topped with parsley.
5
Recipe from: http://www.delish.com/cooking/recipe-ideas/recipes/a51944/greek-chicken-pasta-recipe/
OurKindofWonderful