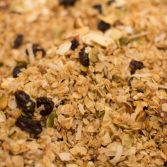 Homemade Granola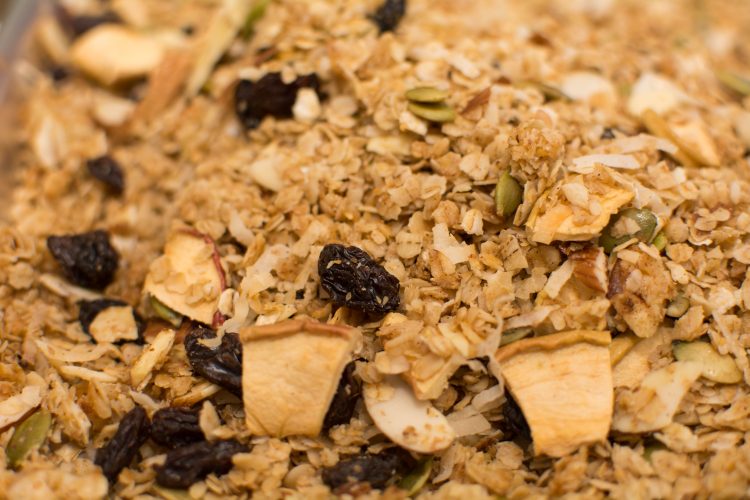 K's mom makes the BEST granola I've ever had. Not even kidding you. She gave us this recipe, and it is amazing. We've tried crock pot granola, overnight granola, etc, and none of them even come close. We mix and match with this recipe, sometimes using sunflower seeds, other times pumpkins, then sometimes dates, other times dried apples, etc. This should be your go to granola recipe.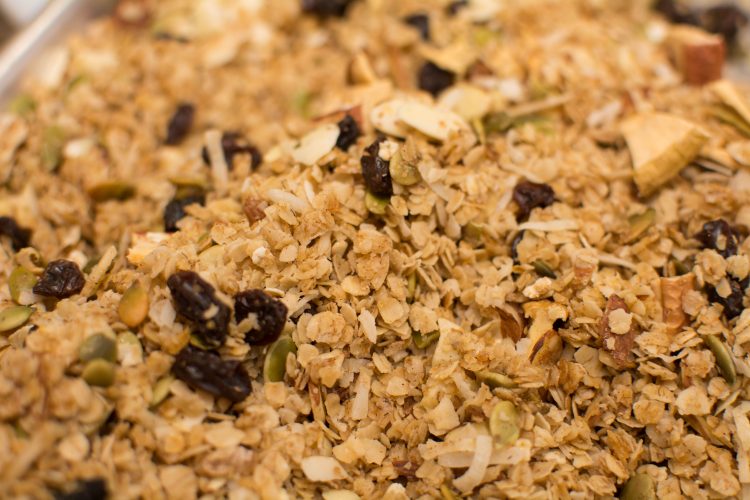 Ingredients
6 cups rolled oats (or any type/combo of rolled grains)
1/2 cup wheat germ
1 cup unsweetened coconut
1 cup nuts (more if you wish, and any kind, walnuts, cashews, almonds, pecans, etc)
1/2 cup sunflower seeds (or other seed such as pumpkin, etc)
1/2 cup canola oil
1/2 to 3/4 cup melted honey, more if you want an even sweeter taste
1 cup raisins and/or other dried fruit such as dates, pineapple, apples, etc.
2 Tbsp. vanilla extract
Instructions
1
Mix grains, nuts, seeds, and coconut together thoroughly. Pour oil and honey over mixture and stir well. Spread over two rimmed, lightly oiled cookie sheets and bake at 275 degrees for 30-40 minutes, or until mixture is golden brown. (We do 35 minutes) Stir at 15 minutes, then continue cooking.
2
Remove from oven, pour into large bowl and add the dried fruit and flavorings. Drizzle about 1/2 cup additional melted honey over the hot mixture and let cool if you want a sweeter granola - we usually find ours is sweet enough without the added honey. For variety add 1 tsp. cinnamon and 1 tsp. nutmeg.
3
You can't really go wrong with this recipe - experiment and enjoy!
OurKindofWonderful