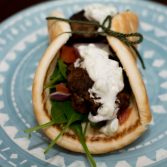 Kofta
Lamb is not my thing, and never will be. I hate the smell, taste, all of it, but K loves it, and it's tradition that he has lamb for New Years Eve. I don't like to always do the same recipe, as I only make him lamb 2-3 times a year, so I decided to try something new this year: Kofta. And, he loved it!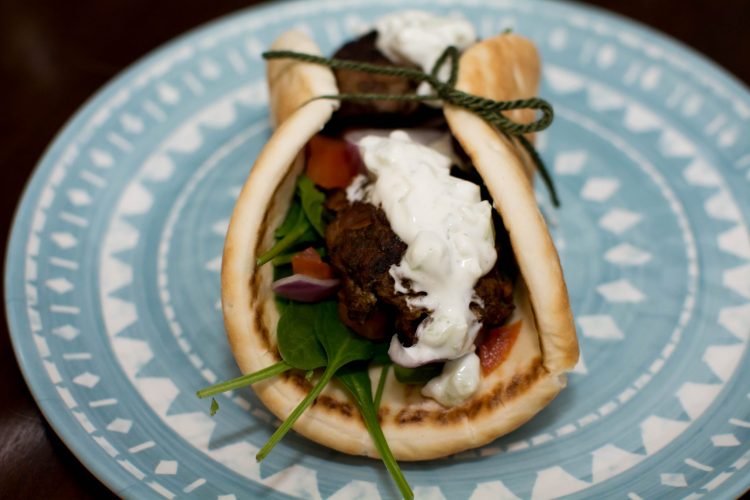 Ingredients
14 wooden skewers
2 Tbsp. minced garlic
1/4 cup red onion, shredded with a cheese grater, with liquid squeezed out.
1/4 cup fresh parsley, minced
1/4 cup fresh mint, minced
1 Tbsp. fresh ginger, grated
1/2 tsp. salt
2 Tbsp. garam masala
1 lb. ground lamb
pita bread or flat bread
shredded lettuce
diced tomato
-- Tzatziki Sauce --
1 (5.3 oz) container of plain greek yogurt
1 small english cucumber
1/2 tsp. minced garlic
1 tsp. lemon zest
1 tsp. fresh lemon juice
1 Tbsp. fresh dill, chopped into small pieces
1/2 tsp. salt
1/2 tsp. black pepper
1 tsp. olive oil
Instructions
2
Place your yogurt in a small bowl.
3
Use the small holes on a cheese grater and grate your cucumber, including the skin. Placed the grated cucumber in your hand and squeeze out the liquid - there will be a lot. I recommend doing this over the sink.
4
Place the cucumber and all other sauce ingredients in with the yogurt and whip to combine. Chill until you're ready to eat.
6
Soak your skewers in water for at least two hours.
7
If you're using an outdoor grill heat it to medium heat. You can also use a ribbed grill pan on your stove instead.
8
Grab a medium bowl and mix all ingredients for the Kofta together, except the lamb. Once it's combined add in the lamb, and mix it just enough that it's all mixed together. You don't want to over mix and over work the meat. Then using your hands, form the mixture into 7 oval shaped patties.
9
Place two skewers side by side into each patty. This will make it easier to flip on the grill.
10
Gill over medium heat flipping halfway through so you have a nicely seared exterior and cooked to your liking on the inside.
11
To serve, place one or two patties on pita bread and top with shredded lettuce, chopped tomato and a generous drizzle of the Tzatziki sauce you made earlier.
OurKindofWonderful