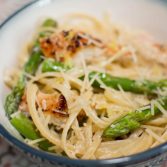 Lemon Asparagus Pasta
This lemon asparagus pasta is so quick to make, and is absolutely delicious. It reheated well, making my work lunches something I actually looked forward to and ate, which isn't always the case. This recipe is one we will definitely be having again and again.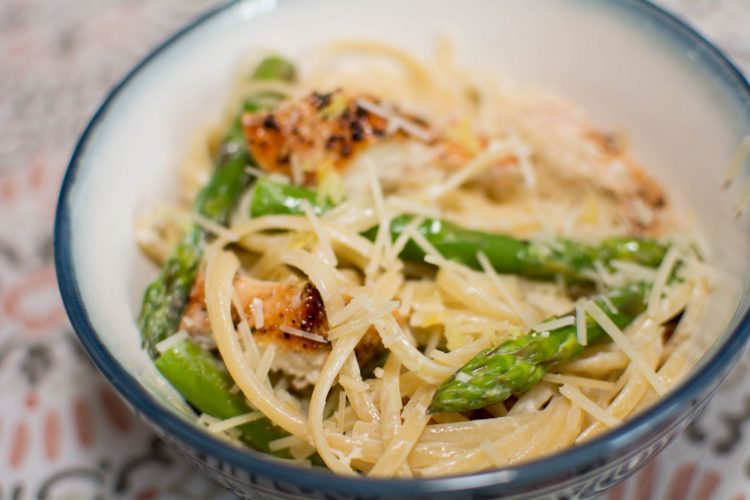 Ingredients
1 lb. boneless, skinless chicken breasts, grilled, and cut into cubes
1 lb. asparagus, trimmed and cut into 1 inch pieces
10 oz spaghetti pasta, cooked according to package directions
3/4 cup heavy cream
2 Tbsp. butter
1 Tbsp. lemon zest
1 Tbsp. lemon juice
1/3 cup shredded parmesan cheese
Instructions
1
Cook the pasta according to package directions. Add the asparagus to the pot of water during the last 3 minutes of cooking. Drain, saving 1/4 cup of pasta water, then set it all aside.
2
In small pot, combine the heavy cream and butter over medium-high heat. Bring to a simmer and cook, stirring, until thick enough that it starts to coat a spoon, about 4 minutes. Remove from the heat and stir in the lemon zest and juice.
3
Put the pasta and asparagus back into the pot you cooked it in, along with the grilled chicken pieces.
4
Pour the cream sauce over the pasta mixture and toss to coat, adding pasta water if needed to thin the sauce. Stir in the parmesan cheese.
OurKindofWonderful