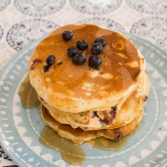 Lemon Blueberry Ricotta Pancakes
Pancakes are slowly becoming our jam. We keep trying new things, not just your traditional pancakes, and are learning that we actually DO like pancakes. And, I'm learning how to cook them, which is huge. For years I've stayed away from them, because I can never make them without the middles being gooey and undercooked. If I can make these then I think this recipe is pretty fool proof – give it a try!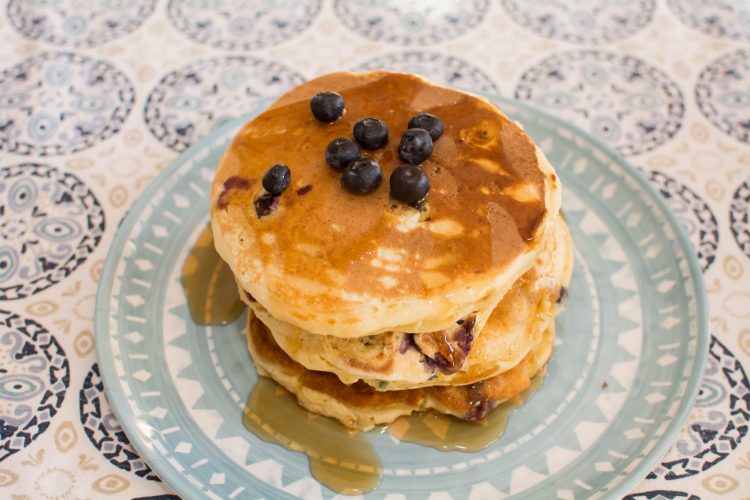 Ingredients
2 cups all-purpose flour
1/2 tsp. baking soda
1 Tbsp. baking powder
2 Tbsp. sugar
1 tsp. vanilla extract
1 cup milk
2 eggs
1/2 cup ricotta cheese
zest from 1 lemon
2 Tbsp. lemon juice
1 cup blueberries
maple syrup and butter for serving
Instructions
1
In a large bowl whisk together the flour, baking soda, baking powder, and sugar. Set aside.
2
In a medium bowl whisk together the vanilla extract, milk, eggs, ricotta cheese, lemon zest, and lemon juice.
3
Add the wet ingredients to the dry ingredients and gently whisk until well mixed. Stir in the blueberries.
4
Fill a ladle about half full and pour it onto a medium hot griddle or pan, and cook for roughly 3 minutes, or until the edges start to firm up. Flip the pancakes and finish cooking for another 1 to 2 minutes on the other side. Repeat with the remaining batter.
5
Serve hot with maple syrup and butter.
OurKindofWonderful