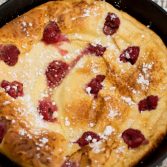 Raspberry German Pancakes
I grew up having Hootenanie pancakes (German pancakes) all the time, as they were my sister's favorite. We had them so much that I started to hate them, and it took years for me to even try them again. I stumbled upon this recipe, which would use up the left over raspberries we had perfectly, and we had to try it. I love the way the raspberries mesh with the pancakes! We just eat ours with powdered sugar and syrup, but your topping options are endless. Growing up my sister would add jam and syrup to hers. You could make these in a glass dish rather than a cast iron skilled if you don't have one, just watch as it bakes and adjust the baking time accordingly. They puff up when they're done.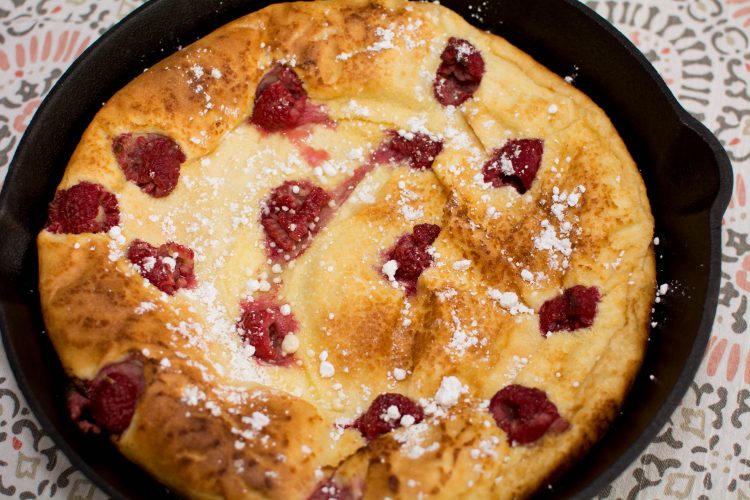 Ingredients
3 eggs
2/3 cup milk
2/3 cup flour
2 Tbsp. sugar
1/4 tsp. salt
1/2 tsp. vanilla extract
4 Tbsp. butter
1 1/2 cups fresh raspberries, divided
--Topping Options--
Powdered sugar
maple syrup
whipped cream
Nutella
Instructions
1
Preheat oven to 435. Grab a 10 inch cast iron skilled, put it in the oven so it can preheat too.
2
In a mixing bowl add the eggs, and blend until frothy, about 1 minute. Add in the milk, flour, sugar, salt, and vanilla extract - mix until combined.
3
Once all mixed remove the cast iron pan from the oven and add the butter to the bottom of the pan. Put the pan back into the oven until the butter melts, then quickly spread the butter across the bottom of the pan, until it's coating it all. Pour the batter into the center of the pan, then add 1/2 cup of the raspberries. Put pan in the oven.
4
Bake for 20-23 minutes, or until the pancake is golden and puffs up, and the center looks set.
5
Remove from the oven and top with a light dusting of powdered sugar and remaining raspberries. Serve immediately, and top with whatever toppings you desire. (we just do powdered sugar and maple syrup)
6
Recipe by: http://www.twopeasandtheirpod.com/raspberry-dutch-baby/
OurKindofWonderful