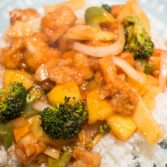 Sweet and Sour Pork
We're learning how to make our favorite Chinese food dishes at home, or at least trying to, so when we have a craving for it we can have a, hopefully, healthier version. This sweet and sour pork is delicious. I'm a bit a fruit snood, so we always use fresh pineapple, but you can use canned too. Be sure to cook the pork so it's crunchy, otherwise when you go to reheat it it will be mushy, which isn't too appealing. We've been making this exact recipe since we were first married, and it has yet to fail us :]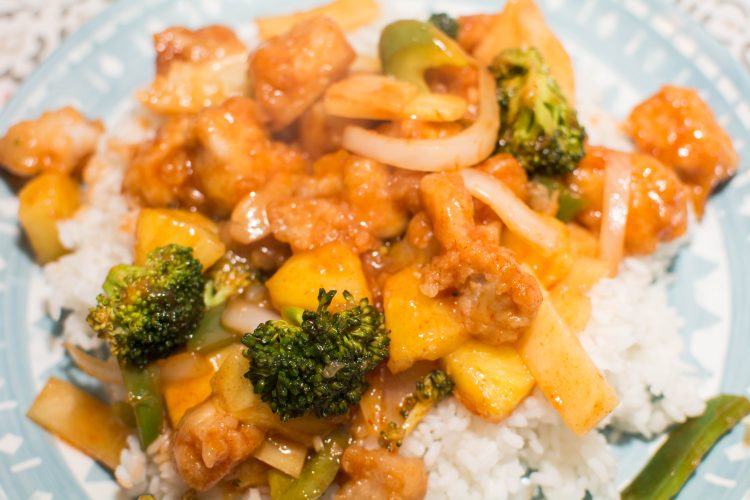 Ingredients
2/3 cup vegetable oil
8 oz. pork tenderloin, cut into 1/2 inch cubes
1 onion, sliced
1 green bell pepper, seeded and diced
1 head broccoli, chopped
8 oz. pineapple chunks
1 to 1 1/2 cups matchstick carrots
1 oz canned bamboo shoots, drained, rinsed
cooked rice to serve
--Batter--
scant 3/4 cup all-purpose flour
1 Tbsp. cornstarch
1 1/2 tsp. baking powder
1 Tbsp. vegetable oil
--Sauce--
2/3 cup light brown sugar
2 Tbsp. cornstarch
1/2 cup white wine vinegar
2 cloves garlic, crushed
4 Tbsp. tomato paste
6 Tbsp. pineapple juice
Instructions
1
To make the batter, sift the flour into a mixing bowl, together with the cornstarch and baking powder. Add the oil and stir in enough water to make a thick, smooth batter (about 3/4 cup).
2
Heat enough oil for deep-frying in a wok to 350-375 degree, or until a cube of bread browns in 30 seconds.
3
Dip the cubes of pork into the batter and cook in the hot oil, in batches, until the pork is cooked through. Remove the pork from the wok with a slotted spoon and drain on paper towels. Set aside and keep the pork pieces warm until they are needed.
4
Drain all but 1 Tbsp. of oil from the wok and return it to the heat. Add the onion, broccoli, bell pepper, pineapple chunks, carrot, and bamboo shoots and cook for 1-2 minutes. Remove from the wok with a slotted spoon and set aside.
5
Mix all of the sauce ingredients together and pour into the wok. Bring to a boil, stirring until thickened and clear. Cook for 1 minute, then return the pork and vegetables to the wok. Cook for an additional 1-2 minutes, then transfer to a serving plate and serve with rice.
OurKindofWonderful