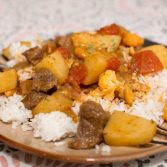 Thai Beef Curry and Cauliflower
We are huge curry fans over here, but finding a good curry recipe is always so hard! Either they're bland, or so spicy they burn coming out too, or they just, you know, suck. So, we pretty much jump up and down over here when we find a good curry recipe. This one, it was bland, then we spiced it up, swapped potatoes for red potatoes, doubled the sauce, and it is SOOO good. You should definitely give it a try.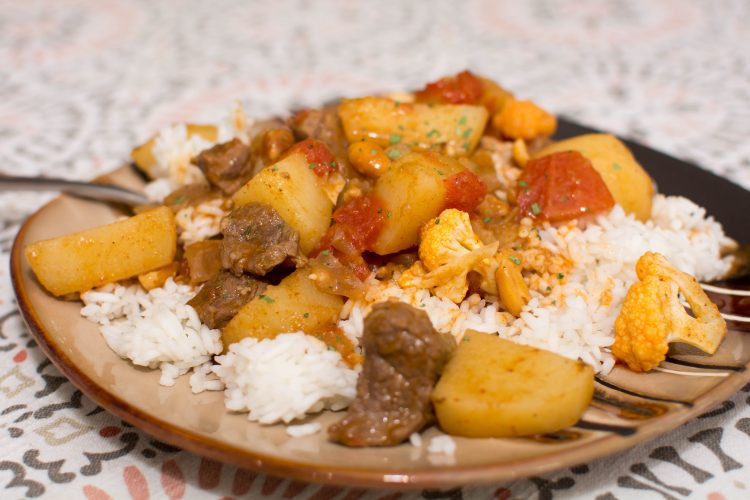 Ingredients
2 Tbsp. olive oil
1 cup chopped onion
2 cloves garlic, minced
1 1/2 lbs. beef stew meat
5-6 red potatoes, peeled and cubed
6 Tbsp. red curry paste
2 tsp. sugar
1/8 tsp. ground cloves
1/4 tsp. cinnamon
dash of hungarian paprika
2 cans (14 oz each) coconut milk
1/2 - 1 small head cauliflower, cut into small florets
1/2 - 1 cup peanuts
1 (14 oz) can diced tomatoes
hot, cooked rice
cilantro leaves for garnish
Instructions
1
In a large saucepan heat the olive oil. Once heated add the onions, garlic, and stew meat. Cook, stirring and turning, for about 3 minutes until meat is browned.
2
Place contents of the saucepan in a large slow cooker, than add the potatoes.
3
In the saucepan you were just using blend the curry paste, sugar, coconut milk, ground cloves, cinnamon, and hungarian paprika. Bring to a boil, then pour over the meat in the slow cooker.
4
Cover the slow cooker and cook on high for 3-5 hours, or on low for 7-9 hours.
5
30 minutes before your meal is done add the cauliflower florets, along with the tomatoes and peanuts to the slow cooker. Cover and cook for an additional 30 minutes.
6
Server over hot, cooked rice and garnish with cilantro leaves.
OurKindofWonderful