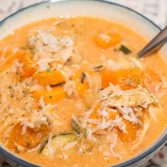 Thai Wild Rice Chicken Soup
To say I was hesitant when picking this recipe, and all throughout making it would be a huge understatement. Then, as it cooked and the smell filled the house my mouth was literally watering. Both K and I are in love with this soup, and I'm so glad I made it when I did. I made it, then the next day we were at Instacare with A finding out she had croup, and the day after K was coughing and super sick, so this soup was a lifesaver. We are going to be making it again, and maybe adding a bit more liquid and using it as a curry sometimes too. I know all of the ingredients sound weird, but just trust me and make this. Plus, it's all done in the crock pot – huge time saver!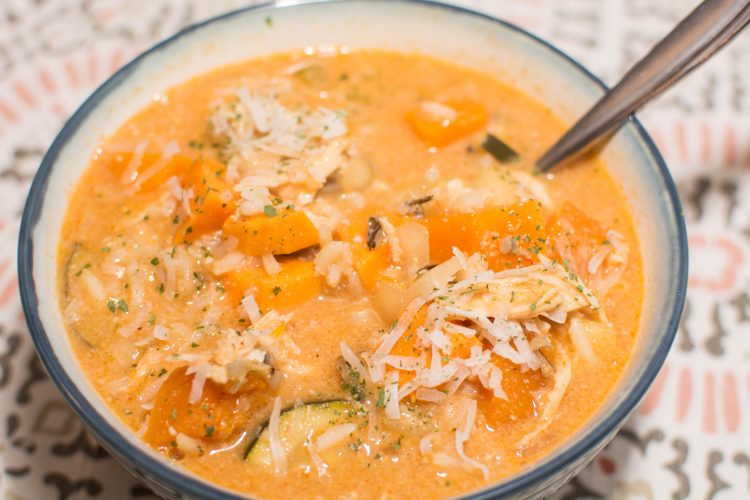 Ingredients
--Part One--
2-3 boneless, skinless chicken breasts
1 Tbsp. olive oil
1 cup uncooked wild rice blend, rinsed and drained (don't use the packet)
1 cup butternut squash, peeled and cubed
1 small sweet potato, peeled and cubed
1 Granny Smith apple, peeled and cubed
1 small zucchini, sliced and quartered
1 onion, diced
1/4 cup red curry paste
1 tablespoon freshly grated ginger
4 garlic cloves, minced
2 tablespoons brown sugar
3 tablespoons fish sauce
2 tablespoons low sodium soy sauce
1 tablespoon dry basil
1 1/2 teaspoons salt
1 teaspoon ground cumin
1/2 teaspoon pepper
2 (14 oz.) cans cans quality coconut milk
5 cups low sodium chicken broth
--Part Two--
1 tablespoon cornstarch
1/4 cup water
1/3 cup creamy peanut butter
2 tablespoons lime juice
2-4 teaspoons sriracha
--Garnish--
Coconut flakes
lime juice
chopped cilantro
Instructions
1
Put chicken and all ingredients from Part 1 in the slow cooker, placing chicken on the bottom. Cover and cook on high for 3-4 hours or on low 6-7 hours, or until chicken is tender enough to shred and rice is cooked.
2
Remove chicken and allow to rest 5 minutes before shredding.
3
Meanwhile, whisk 1 tablespoon cornstarch with 1/4 cup water and add to slow cooker. Stir in peanut butter and lime juice. Add chicken back to slow cooker and cook on HIGH for 15-20 minutes or until slightly thickened. Stir peanut butter until smooth.
4
Taste and add additional salt, pepper, peanut butter, Sriracha as desired.
5
Garnish individual servings as desired. Enjoy.
6
Recipe by: http://carlsbadcravings.com/slow-cooker-thai-coconut-chicken-wild-rice-soup/
OurKindofWonderful