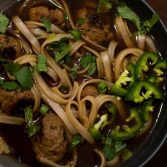 Vietnamese Meatball Pho Noodle Soup
Pho is something that K loves, but that we don't have often at all. When I found this recipe to try it I got so excited, and when it actually turned out and he loved it I considered it a huge win. We got our star anise from Amazon as I couldn't find it anywhere locally – since we only needed one and got a whole package full it looks like we need to make this again and again, which I know K won't complain about.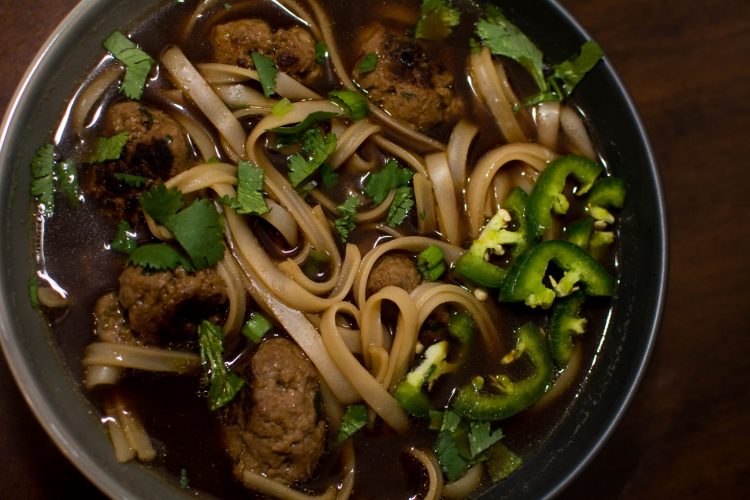 Ingredients
--Beef Stock--
6 cups beef stock
3 green onions, sliced
1/4 cup chopped cilantro
1 Tbsp. grated ginger
2 bay leaves
2 dried peppers
1/2 tsp. whole cloves
1 star anise
1/2 tsp. black peppercorns
1/2 tsp. coriander seeds
1/2 cup Japanese sake
--For the Meatballs--
1 lb. ground pork
1/4 cup hoisin sauce
1/2 cup plain breadcrumbs
1 Tbsp. fish sauce
1 Tbsp. ponzu sauce
1 Tbsp. honey
1/2 tsp. black pepper
2 green onions, chopped finely
1/4 cup chopped cilantro
3 cloves of garlic, finely minced
vegetable oil
--Pho Noodle Soup--
6-8 cups prepared beef stock
1 recipe pork meatballs
12-16 ounces dried rice noodles, cooked per package instructions
1 bunch of cilantro leaves
2 green onions, sliced
2 jalapeno peppers, sliced
hoisin sauce, for drizzling
Instructions
2
Grab a large pot and combine the beef stock, green onions, chopped cilantro, ginger, bay leaves, peppers, cloves, star anise, black peppercorns, coriander seeds, and Japanese sake. Bring it all to a boil, then lower the temperature to a simmer. Simmer the broth for 1 1/2 hours, covering it after half an hour. Strain the broth using a fine mesh strainer, then transfer back to the pot. Keep it warm on the stove until you're ready to serve it.
4
In a large bowl combine all of the ingredients for the meatballs but the vegetable oil. Either using your hands or a wooden spoon mix it all together until it's fully combined. Line a baking sheet with parchment paper, and form the meat into Tbsp. sized balls. Cover them with plastic wrap and place them in the fridge for 30 minutes so they can firm up.
5
Heat the vegetable oil in a large nonstick skillet set over medium-high heat. Add the meatballs and brown on two sides. Lower the heat to medium-low and cover. Cook for 25-30 minutes or until the meatballs are cooked through. Transfer to a large plate and cover with foil until you are ready to serve.
7
Put your bowls together by placing cooked rice noodles and meatballs in the bowl. Pour the beef stock over top and then garnish with cilantro, green onions, jalapeno peppers, and a drizzle of hoisin sauce. Enjoy!
8
Recipe from: http://www.cookingandbeer.com/2017/01/vietnamese-meatball-pho-noodle-soup-pho-bo/
OurKindofWonderful