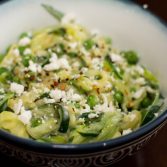 Zucchini Noodle Carbonara
A friend posted this recipe on Facebook, and I excitedly saved it to show K to see if it was something he wanted to try. I am so glad we did! We all loved it, and will be making it again and again, it was so delicious. And, it was super quick to prepare.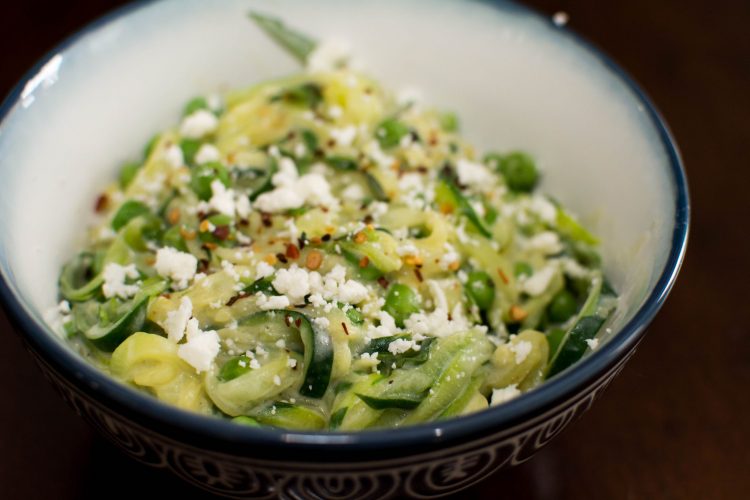 Ingredients
4 large zucchini, ends trimmed
2 slices bacon
2 cloves garlic, pressed
1/2 tsp. red pepper flakes
2/3 cup half-and-half
1 Tbsp. cornstarch
1 cup frozen peas
1 oz. fresh parmesan cheese
1/8 tsp. black pepper
feta cheese, for topping
Instructions
1
Grab your Spiralizer, and spiralize your zucchini using the fettuccini blade, being sure to trim off the ends of the zucchini. Put the zucchini in a large bowl, being sure to squeeze out any excess liquid with paper towels.
2
Cut the bacon into bit size pieces. Cook the bacon in a nonstick skillet over medium heat for 4-5 minutes, or until it's slightly crispy. Be sure to stir occasionally so it doesn't burn. Once it's cooked add the garlic and red pepper flakes and continue to cook for 30 seconds.
3
Add the zucchini noodles, cooking for 3-4 minutes so they can soften. Be sure to stir as you cook.
4
Grab a small bowl, then whisk the half-and-half and cornstarch together in the bowl. Pour it into the skillet, and mix well. Add the peas and continue to cook for 3-4 minutes, or until the sauce starts to thicken a bit.
5
Grate the parmesan, then add it and the pepper to the skillet and mix well.
6
Remove the skillet from the heat and let it stand for 3–5 minutes to thicken. Top with feta cheese. Enjoy.
7
Recipe adapted from: https://www.pamperedchef.com/recipe/Main+Dishes/Zucchini+Noodle+Carbonara/1308599
OurKindofWonderful