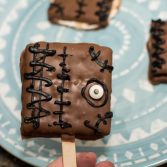 Hocus Pocus S'mores Pops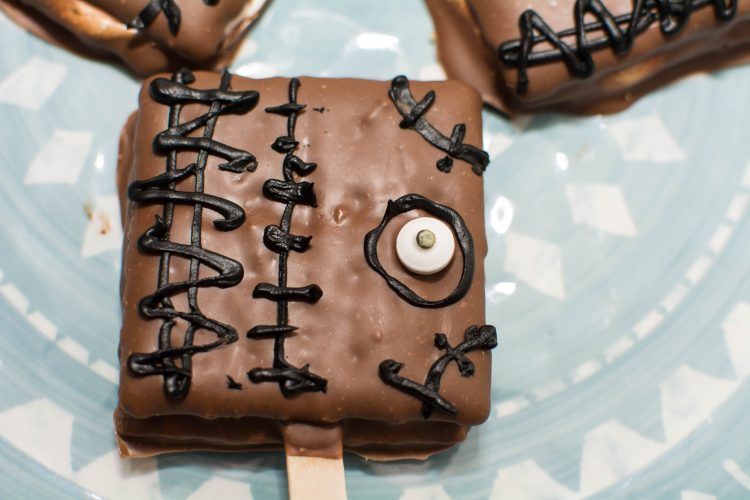 We've only been parents for a month and a half, and already I'm wanting to do more fun, "cutesy" things so A will have fun holiday memories as she grows up. I know, I know, no way will she remember anything for a while, but, I couldn't help it and we did some neighbor treats in the form of Hocus Pocus S'mores Pops. We were going to do them for all of the neighbors, but I ran out of fridge and freezer space, haha, so only a few got them. But, they are so fun, and so good! I saw a video of them on Facebook, and since K and I love Hocus Pocus and watch it every year we knew these would be what we're making. You can see the video too, just go HERE.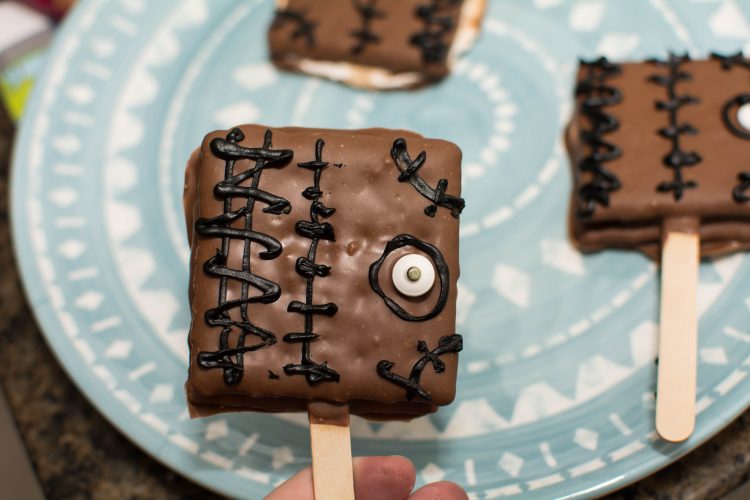 Ingredients
12 graham crackers, halved
marshmallow fluff
3 c. semi-sweet chocolate chips
3 Tbsp. coconut oil
1 bag candy eyes
1 container black cookie frosting
Popsicle Sticks
Instructions
1
Spread Marshmallow Fluff on half of the graham crackers. Place a popsicle stick halfway on the Fluff, so it sticks out from the graham cracker like a handle. Top with the other graham cracker. Place them on a parchment-lined baking sheet and leave in the freezer while you make the chocolate sauce.
2
Set up a double boiler: Fill a medium-sized saucepan with about 1" water, then top with a glass bowl. (Make sure the bowl doesn't touch the water.) Place the chocolate chips in a bowl, stirring until melted, then stir in coconut oil. Dip graham cracker sandwiches in chocolate, covering them completely. You may need to use a butter knife or silicone spatula to make sure the sides are coated. Stick one candy eye on each "book," on the far right side about halfway down the graham cracker. Place them back on the baking sheet and refrigerate at least 15 minutes, or until the chocolate has hardened.
3
Use black cookie frosting to draw a circle around the eye, two semicircles on the outer corners of the graham cracker "book" and "stitches" on the chocolate-covered graham crackers.
4
Refrigerate until set, at least 15 minutes. Keep them there until just before serving.
5
Recipe by http://www.delish.com/cooking/recipe-ideas/recipes/a49584/hocus-pocus-inspired-smores-pops-recipe/
OurKindofWonderful