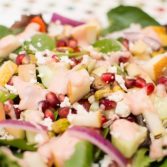 Pomegranate Pear Salad with Creamy Pomegranate Dressing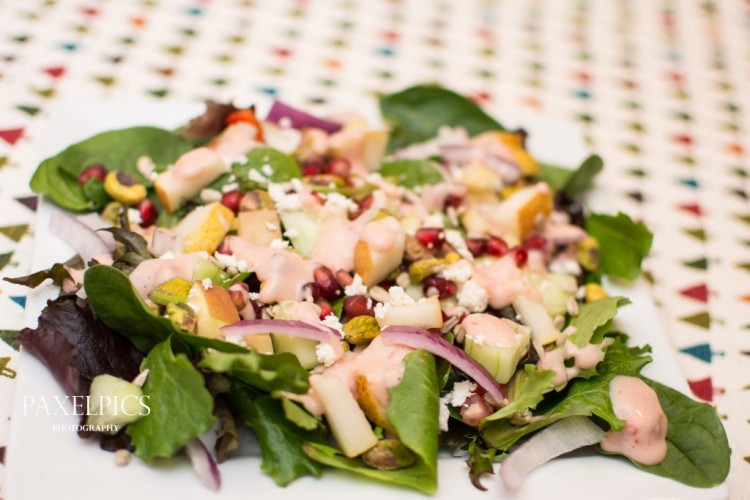 My sister Tricia makes the most amazing salads, ever. When we have a family party she is always assigned a salad, and each time it's phenomenal. For our family Christmas party she, again, brought a salad, and it inspired me to search for, and make some salads, and low and behold, here one is! I think even Tricia would approve :].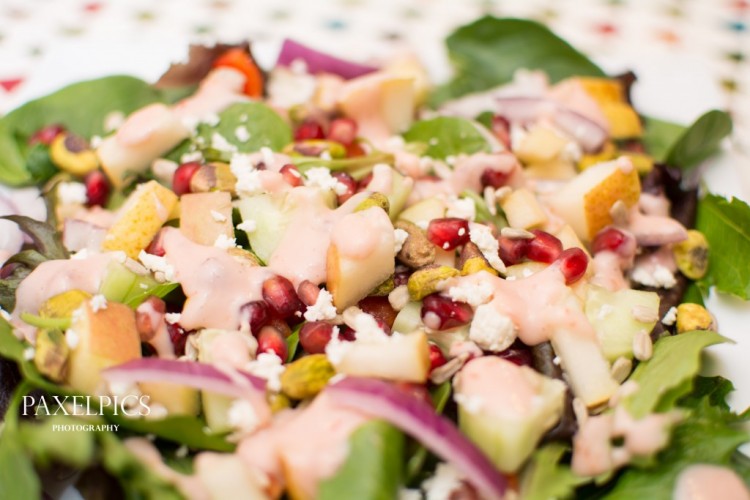 Ingredients
--Salad--
1 apple, chopped
1 pear, chopped
1 small cucumber, peeled and chopped
1 small red pepper, chopped
1/4 red onion, chopped
1/3 cup roasted and salted sunflower seeds
1/3 cup roasted and salted pistachios
1/3 cup pomegranate arils
1/2 cup feta cheese
--Creamy Pomegranate Dressing--
1 5.3 oz Greek strawberry yogurt
1/4 cup red chili sauce
2 Tbsp. pomegranate juice
2 Tbsp. mayonnaise
1 Tbsp. apple cider vinegar
1 Tbsp. lemon juice
1/2 tsp. Worchestershire sauce
Instructions
1
Whisk together all of the creamy pomegranate dressing ingredients in a medium bowl, and chill while you prepare the salad.
2
Combine the salad ingredients in a large bowl. Top with dressing when ready to serve.
OurKindofWonderful