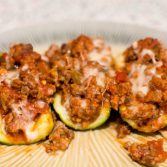 Stuffed Zucchini
Stuffed zucchini are a very welcome change from our normal meals. These are delicious, and quite filling. I like mine a bit sweeter, so if it was just for me, and not K, I'd add a couple Tbsp. of brown sugar and leave out he hungarian paprika. This is the perfect meal for all that extra squash in your garden.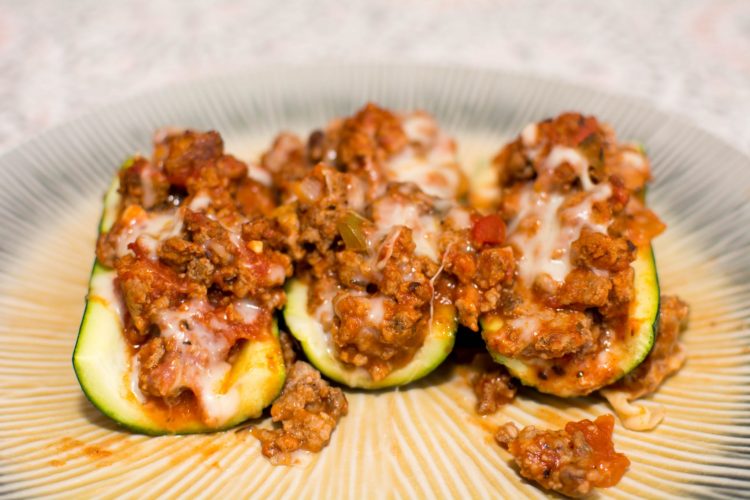 Ingredients
2 large zucchini or yellow squash, 12 inches long and at least 4 inches wide
4 tsp. olive oil, divided
1/2 cup finely chopped onion
1 green pepper, finely chopped
2 Tbsp. minced garlic
2 lbs. ground turkey burger
2+ tsp. ground cinnamon
2 tsp. garlic salt
dash of nutmeg
dash of hungarian paprika
2 cups tomato-basil pasta sauce (or other sauce of your choice)
2 cups mozzarella cheese
Instructions
1
Preheat the oven to 350 degrees. Chop the onion and green pepper. Heat 2 tsp. olive oil in a non-stick pan, then saute the onion and pepper for 3-4 minutes, until just starting to soften. Add minced garlic and saute about 1 minute more, stirring so it doesn't burn. Remove the onion, pepper, and garlic mixture to a bowl.
2
Add 2 tsp. more olive oil to the pan. Crumble in the turkey burger with cinnamon and garlic salt, nutmeg, and hungarian paprika and cook over medium heat until the meat is well browned. Stir cooked vegetables and garlic back into the meat. Add tomato sauce and simmer until the mixture has thickened and liquid has cooked off, about 10 minutes, then turn off heat.
3
While the meat cools, cut zucchini in half, then use a melon baller to hollow out the zucchini, leaving just over 1/4 inch of zucchini flesh. Be careful not to get too close to the skin or the cups will leak liquid when they cook.
4
Spray the casserole dish with nonstick spray place the zucchini inside. Stir 1 1/2 cups grated cheese into the cooled meat mixture (it doesn't need to be completely cool), then spoon the meat-cheese mixture into zucchini boats, pressing down with the spoon and mounding it up a little over the top of the zucchini.
5
Bake zucchini cups for 20 minutes, then remove from oven and use remaining cheese to top each one with a generous pinch of cheese. Put back in oven and bake 10-15 minutes more, until zucchini is slightly soft when pierced with a fork and cheese is melted and lightly browned. Serve hot.
OurKindofWonderful