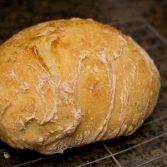 12 Hour No Knead Bread
We love homemade bread, and I've always wanted to make a good, crusty, pull apart bread, but never did. K actually makes this recipe, and it's delicious! You do have to plan ahead, as it has to rise for 12-18 hours, but it's worth it, and the recipes is so, so easy. Making the dough and letting it rise overnight is the best option, in my opinion.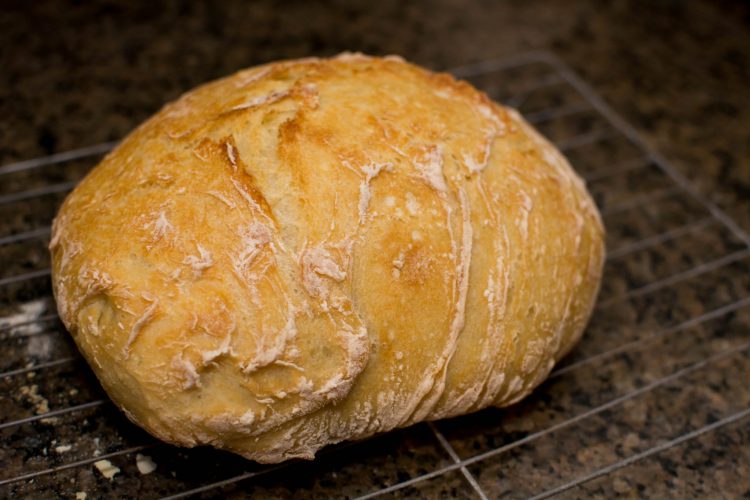 Ingredients
3 cups flour
1 1/2 tsp. salt
1/2 to 1 tsp. instant yeast
1 1/2 cups water at room temperature
Instructions
2
In a large mixing bowl whisk together the flour, salt, and yeast until mixed well. Stir in the water until a chunky, thick dough begins to form. If you need more water don't be afraid to add in a bit more, a Tablespoon at a time. Your dough won't be pretty, it should look weird and textured, that's normal. Cover your mixing bowl with plastic wrap or a towel, and let it rest and rise for 12-18 hours at room temperature.
4
When the dough is ready to bake preheat your oven to 450 degrees. Put your 6 quart cast iron dutch oven in the oven for about 30 minutes to let it heat up. Your dough will look big, puffy, and much looser, with some bubbles in it. Gently scrape your dough onto a well floured surface and without kneading shape it into a ball with flour on the outside. Set your dough on a piece of parchment and cover it with plastic wrap as the dutch oven warms up.
5
Take the plastic wrap off of the dough. Life the dough AND parchment paper at the same time, and put them into the dutch oven so the parchment paper lines the bottom of the hot pan (be careful not to burn yourself). Bake, covered, for 30 minutes. Then, bake uncovered for another 10-15 minutes, making the outside of the dough crispy and golden brown. Enjoy!
OurKindofWonderful