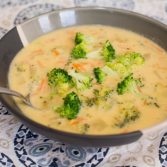 Broccoli Cheese Soup
This broccoli cheese soup has a different flavor than most that I've had because it uses Gouda cheese. K LOVES gouda, so he was in heaven with this soup, as does A. I, however, am not a gouda fan. This soup was still tasty, but I didn't love it nearly as much as them, because well, gouda isn't my kind of flavor. But, if you're gouda loving, you should try this! And, if you aren't, you could always substitute it for another cheese that you prefer.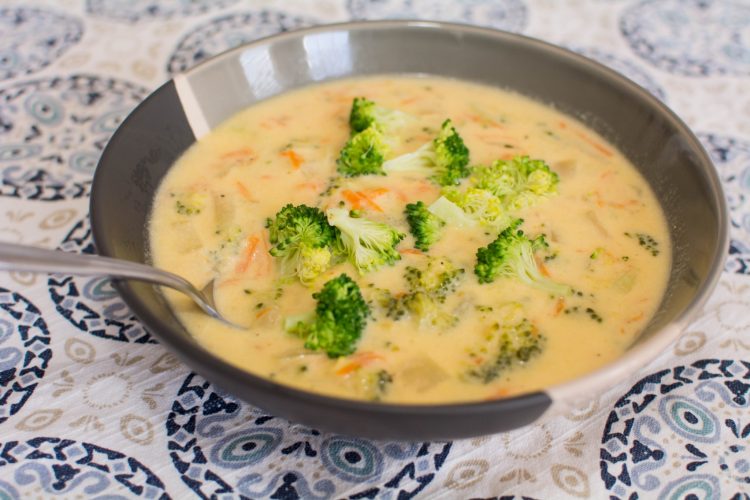 Ingredients
2 cups broccoli florets
2-3 cups chicken broth
1/2 cup sharp cheddar cheese, plus more for topping
1+ cup of gouda cheese, freshly grated
1 cup fresh carrots, grated
2 small white onions
2 small cloves of garlic
1 cup half and half
3 Tbsp. all purpose flour
3 Tbsp. butter
Instructions
1
Dice the onions, mince the garlic, and shred the carrots.
2
Chop 2/3 of the broccoli into tiny florets, and then take the remaining 1/3 and chop it roughly, so you have a few large pieces to add to the soup.
3
Grab a large soup pot, add the vegetable broth, broccoli, onion, garlic, carrots, and bay leaf. Cook over medium-high heat for 8-10 minutes, or until the mixture comes to a boil.
4
Cook an additional 5 minutes, or until the broccoli is tender.
5
As the broth finishes up you want to start your roux. In a medium pot melt 3 Tbsp. of butter over medium high heat, being sure to stir constantly so it doesn't burn.
6
Once it's melted slowly add in the 3 Tbsp. of flour, continuing to whisk.
7
Remove from the heat and pour the roux into the broth mixture. Then slowly stir in 1 cup of half and half.
8
Turn the heat to low, then remove the bay leaves and season with the remaining herbs and spices.
9
Add in the cheddar and gouda cheese by handfuls at a time, being sure to melt the cheese after each addition.
10
Serve immediately in bowls, or bread bowls.
OurKindofWonderful