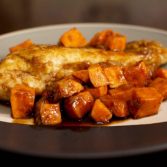 Skillet Chicken with Sweet Potatoes and Maple Glaze
I actually hate balsamic vinegar, so the fact that this recipe called for it had K and I both wondering why I picked it, haha. But you know what, for this recipe it just worked and wasn't overwhelming or gross! I actually loved the maple glaze, and it just made the flavor of the chicken and sweet potatoes that much better. Add in the fact that this recipe is super easy and fast to make and it's definitely a must try.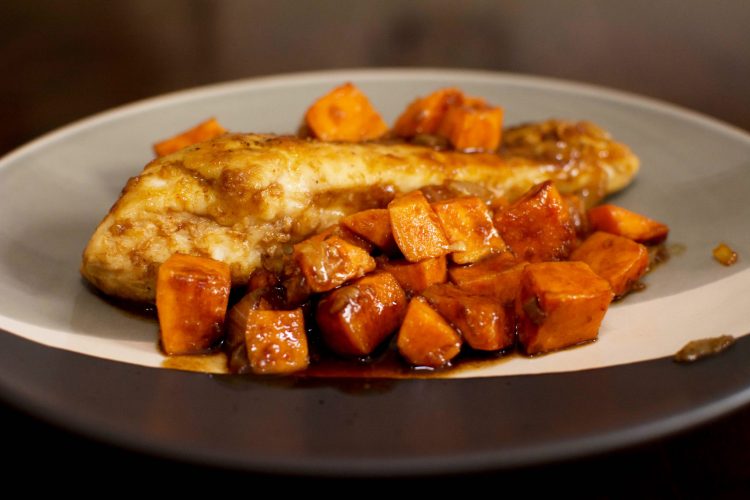 Ingredients
1 lb. boneless skinless chicken breast cutlets
1/2 cup flour
4 Tbsp. olive oil, divided
2 medium sweet potatoes, peeled and diced into 1/2-inch cubes
1 small onion, finely diced
3 cloves garlic, divided
1 tsp. paprika
3 Tbsp. balsamic vinegar
1/4 cup maple syrup
pepper, to taste
Instructions
1
Preheat the oven to 400 degrees.
2
Pat the chicken dry and season with a bit of pepper on both sides then coat the chicken breasts in flour.
3
Heat 2 Tbsp. olive oil in a large skillet over medium-high heat, then place the chicken in the pan and brown on both sides, about 3-4 minutes per side. Transfer the chicken to a plate and set aside.
4
You're going to make the sweet potatoes in the same skillet that you used for your chicken. Heat 1 Tbsp. oil over medium-high heat. Saute the sweet potatoes, onion, and garlic in the oil for 5-8 minutes, until the veggies are golden and caramelized. The sweet potatoes won't be cooked all the way through, which is just fine. Stir in the paprika and season with pepper to taste.
5
Arrange the chicken breasts around the sweet potatoes in the skillet, or in an oven safe pan. Bake at 400 degrees for 20-25 minutes, or until the chicken is cooked through and the sweet potatoes are tender.
6
While the chicken bakes you want to make your sauce. In a small sauce pan, over medium-high heat, heat 1 Tbsp. olive oil and then saute the garlic, just until it becomes fragrant. Stir in the vinegar, syrup, and season with pepper to taste. Bring to a boil and then reduce to medium and let simmer until the sauce has reduced and thickened - roughly 10 minutes.
7
Once the chicken is done top with the maple sauce and enjoy.
OurKindofWonderful