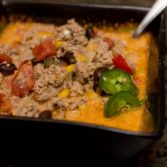 Jalapeno Popper Chili
I have had horrible experiences with cutting jalapenos, then touching my eyes, mouth, nose, etc. Pretty much doing everything they tell you not to do, even when I thought I was being so careful. K, however, has hilarious memories of me and jalapenos, watching me snort yogurt with tears running down my face as I try to get the burning to stop. Then me using my jalapeno fingers to wipe my eye on accident, only making it worse. So, when we make anything that requires jalapenos it's a huge act of love, even though I now I refuse to cut them, or even touch them while prepping. This soup was no exception, but K loved it anyway, and has already requested I make it again.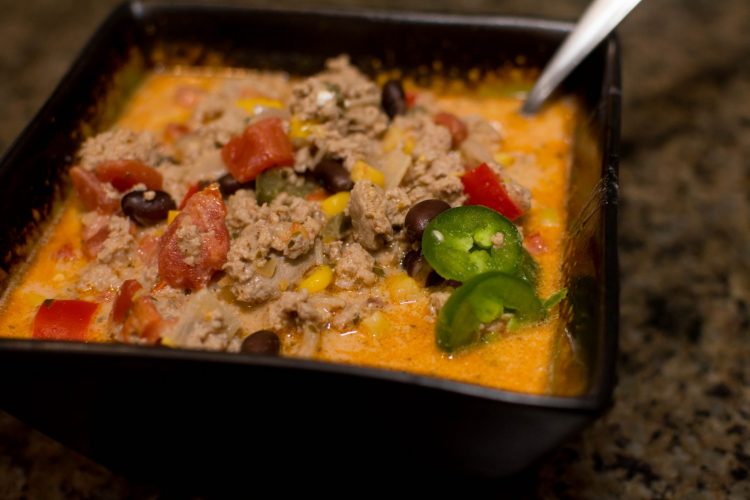 Ingredients
2 Tbsp. olive oil
1/2 medium red onion, chopped
1 red bell pepper, chopped
2 jalapeno peppers, seeded and finely chopped (leave some seeds if you want more spice)
3 cloves garlic, minced
1 lb. ground turkey burger
2 Tbsp. taco seasoning
1 (14.5 oz) can black beans, drained and rinsed
1 cup corn
1 (14.5 oz) can diced tomatoes
3/4 cup chicken broth
1/2 cup chopped cilantro
4 oz. cream cheese
1 cup salsa, optional
chopped cilantro, for garnish
Instructions
1
In a large soup pot add the olive oil. Saute the onion, red pepper, jalapeno and garlic over medium heat until they're tender and the onion is translucent.
2
Add in the turkey burger and cook until it's no longer pink. Add in the taco seasoning, stir to combine.
3
Add in the black beans, corn, diced tomatoes, chicken broth, and chopped cilantro. Add in the salsa if you're using it. Let the chili simmer for about 30 minutes, letting the flavors all blend together.
4
Add the cream cheese right before serving; stir until melted and creamy. Serve topped with cilantro.
OurKindofWonderful