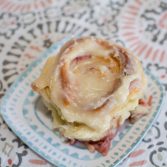 Strawberry Rolls with Cream Cheese Frosting
These strawberry rolls are seriously to die for. They are SOOOOO good! We tried out this recipe for the first time when we were taking dinner to a neighbor who's basement had flooded. And, let's just say K said their basement should flood more often so I'd make these, haha.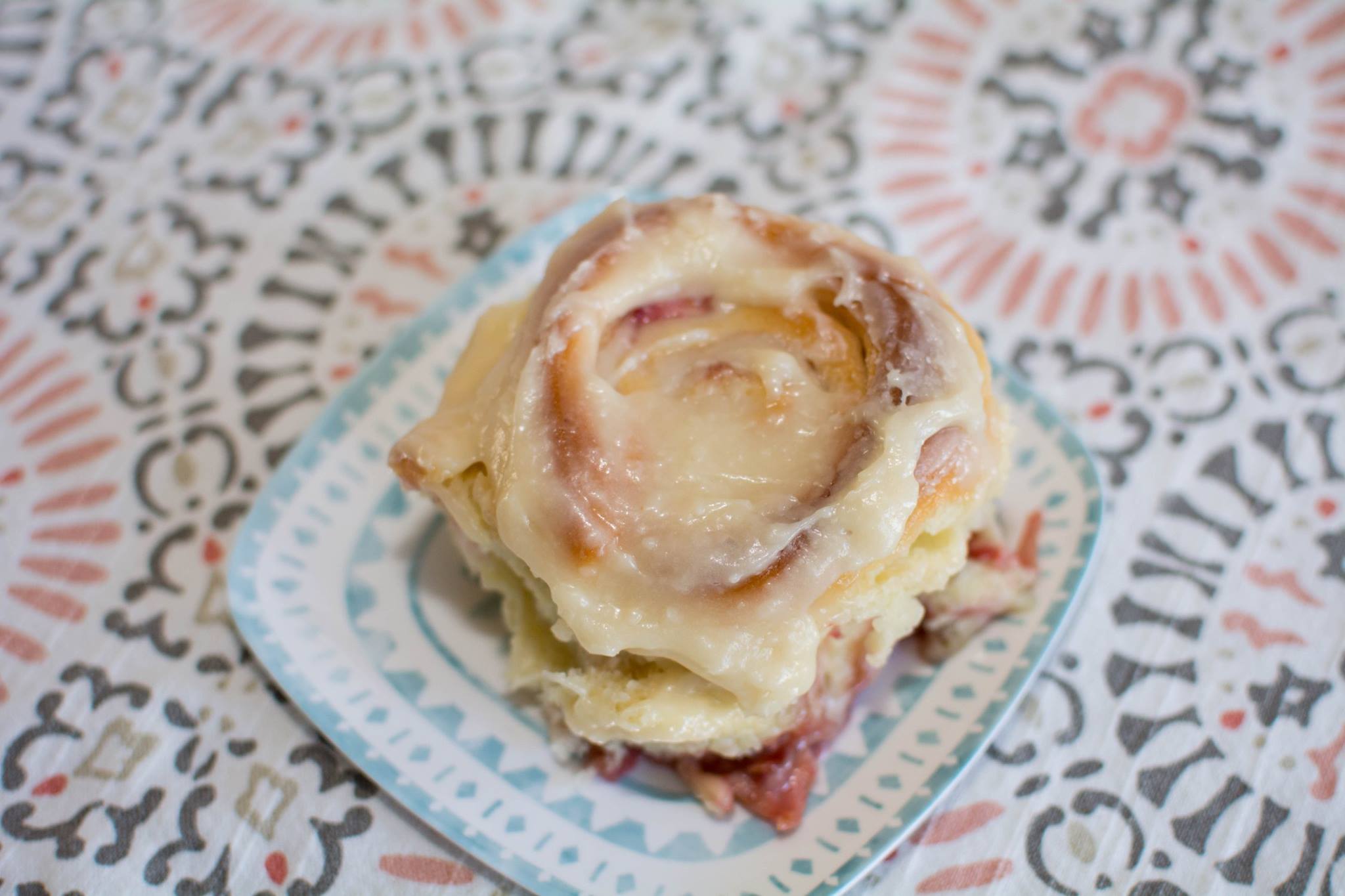 Ingredients
--For the Dough--
1/2 cup milk
1 tsp. active dry yeast
1 egg
1/4 cup sugar
1/4 cup butter
2 cups all-purpose flour
1/4 tsp. salt
--For the Filling--
1 cup fresh strawberries, chopped
3/4 cup strawberry jam
--For the Frosting--
1/2 cup cream cheese, warmed to room temperature
3 Tbsp. unsalted butter, softened
1 tsp. vanilla extract
1 1/2 cups powdered sugar
Instructions
1
Preheat oven to 350 degrees.
2
Grab a small bowl and warm up the milk in the microwave for 30 seconds. Add in the yeast, then stir and let sit for 5 minutes, or until the yeast dissolves.
3
In the bowl of your mixer add in the sugar, egg, butter, flour, and a pinch of salt. Mix using the paddle attachment, after mixed a bit add in the milk mixture and continue to mix for 3 to 5 minutes. The dough should be elastic and soft. Place the dough in a lightly oiled bowl, and let is rise in a warm place. I usually preheat my oven then set my bowl on the stove top, in the back, and let it rise there.
4
Spray or butter a 10 inch pie dish, or any baking dish you chose.
5
Roll the dough out into a rectangle, roughly 18"x12". Spread the strawberry jam evenly over the dough, keeping it about 1 inch away from the edges. Evenly arrange the chopped strawberries over the top of the jelly.
6
Starting from the far side towards you, roll the dough. When you reach the end you want to make sure to pinch the sides together to create a seal of sorts.
7
Cut the rolls into 8 rolls. A serrated knife makes this easier.
8
Place the rolls in the greased baking dish, then cover with a thin towel or plastic wrap. Let the rolls rise until they have doubled in size.
9
While the rolls rise prepare your frosting. Place all of the ingredients in the bowl of your mixer and mix together until smooth. If the icing is too thick you can go ahead and add 1 Tbsp. of milk, and then continue to add milk until it reached your desired consistency, but remember to only add 1 Tbsp. at a time. If the icing is too thin add more powdered sugar.
10
When the rolls have doubled in size you want to bake them at 350 degrees for about 30 minutes, or until they are a nice golden brown. Let cool for about 10 minutes, then drizzle with cream cheese icing and serve.
OurKindofWonderful