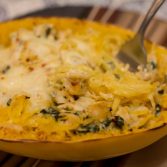 Cheesy Garlic Spinach Parmesan Spaghetti Squash
We absolutely love squash, but have never done much with spaghetti squash. After having this meal I'm not sure why we haven't because it's so good! I love this healthier option for noodles, it's delicious and so easy. You can add chicken if you want, or leave it out for a vegetarian meal.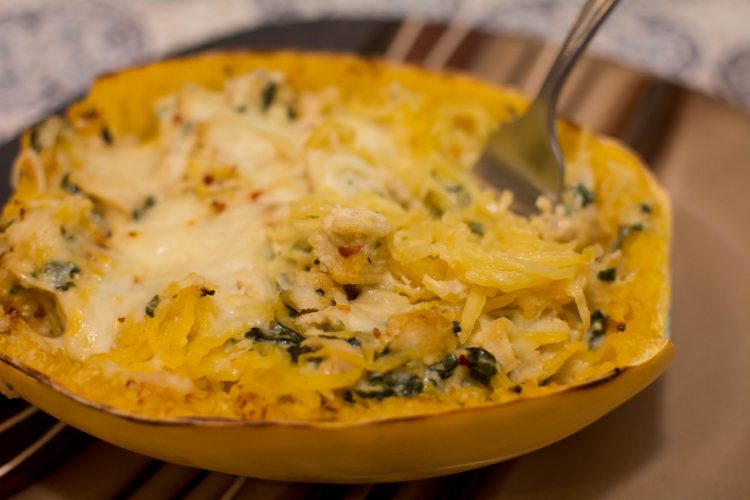 Ingredients
1 medium spaghetti squash
2 1/2 Tbsp. minced garlic
1 Tbsp. olive oil
5 oz fresh spinach, chopped
1/2 cup cream
1 Tbsp. cream cheese
1/2 cup freshly grated parmesan cheese, plus more for topping
mozzarella cheese, for topping
grilled chicken cut into bite size pieces, if desired
Instructions
1
Preheat oven to 400 degrees.
2
Slice your spaghetti squash in half, lengthwise, and scoop out the seeds.
3
Rub the cut side of the squash with olive oil, then place in a rimmed baking dish and roast face down for about 40 minutes, or until it's tender and able to easily be pierced with a fork. Cooking time can vary depending on the size of your squash.
4
As the squash cooks start on the sauce.
5
In a medium pot over medium high heat add in a bit of olive oil and the spinach. Stir until it begins to wilt. Add in your cream, cream cheese, and parmesan cheese, stirring well.
6
Add in your chicken, if desired, mix together again.
7
Once the squash is done roasting allow it to cool enough to easily handle. Use a fork to separate the strands of spaghetti squash.
8
Pour your sauce over each squash boat, then stir to mix. Top with some mozzarella cheese and more parmesan cheese, if desired.
9
Bake at 350 degrees for about 20 minutes, or until it is hight and bubbly. Enjoy!
OurKindofWonderful