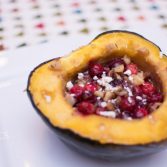 Acorn Squash with Walnuts, Cranberries, and Feta
So, we've had a pretty rough week, so I decided to make one of our go to recipes tonight, which would guarantee we'd have at least one win today. This was my first recipe using acorn squash, ever, and it is phenomenal.To be honest, the smell of it raw is nasty, and I was tempted to not even try it the first time, but pulling it out of the oven, YUM! It's a miracle we stopped for photos before diving in.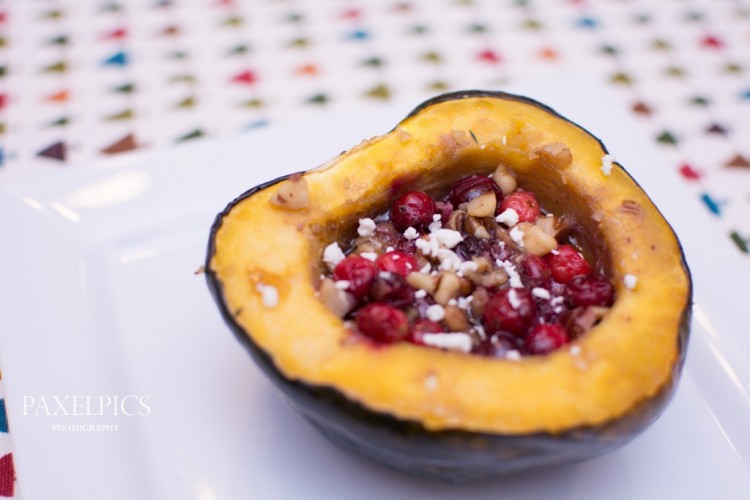 Ingredients
1 Acorn squash, cut in half
1/4 cup walnuts, roughly chopped
1/2 cup fresh cranberries (you could use frozen too)
4 Tbsp. brown sugar
2 Tbsp butter
Feta, sprinkled on top to your liking
Cinnamon, lightly sprinkled on top to your liking
Instructions
2
In a bowl, mix together the walnuts, cranberries, and brown sugar. Use your hands to toss and combine.
3
Cut your acorn squash in half, removing and discarding the seeds.
4
Divide up your cranberry mixture between both squash halves, then top with 1 Tbsp. butter in each half. You may have some excess mixture, we did, and we just used it to make some amazing cranberry sauce!
5
Place squash on a baking sheet, or in a baking dish, and loosely cover with tin foil. Bake for 1 hour 15 minutes, or until a fork inserted into the squash goes in easily, like it would with mashed potatoes.
6
Remove from oven, place on plate, and serve right away. If it isn't sweet enough for you you can always add some pure maple syrup, or some honey on top.
OurKindofWonderful