Apple & Butternut Squash Soup
This soup is definitely one that's out of my comfort zone. I prefer soups that are chunky, and for some reason I have a hard time with any that aren't. This was no exception, but pairing it with a grilled cheese that I was able to dip into it was really helpful. You can definitely add more cinnamon to flavor it up, and I'd maybe even add a bit of honey to mine, for a sweeter soup. K loved it as is, and A was even a fan.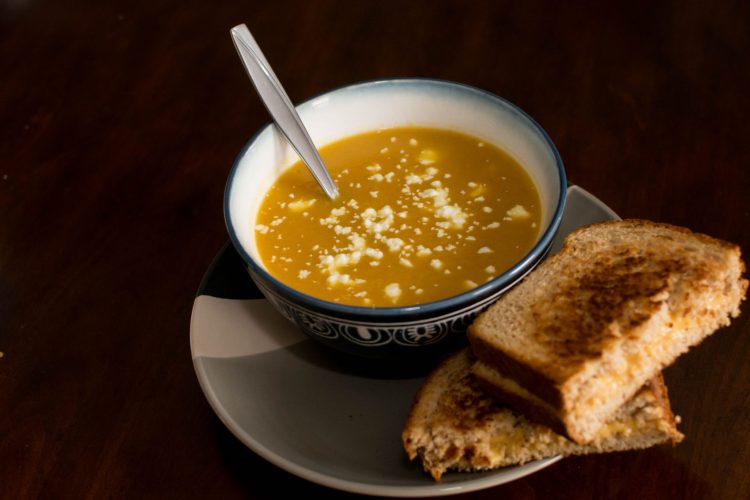 Ingredients
4 cups of peeled and cubed butternut squash, roasted
1 large, peeled, cored & cubed
1/2 large yellow onion, diced
1 Tbsp. coconut oil
1/2 to 2 tsp. curry powder, depending on taste
3.5 cups vegetable broth
1/2 cup almond milk
a few dashes of cinnamon
feta cheese, for topping if desired
Instructions
1
Season your cubed butternut squash with cinnamon, then roast for 30 minutes at 425 degrees F.
2
While the squash roasts grab a large skilled, and over medium-high heat saute the apple and onion in coconut oil. Add in the curry powder and continue to saute for about 10 minutes, or until the apple and onion are softened.
3
Add the broth, milk, and squash to the large skillet and bring to a boil. Reduce the heat and simmer, uncovered, for about 20 minutes.
4
Use a blender or food processor and blend the soup in batches until it's smooth and creamy. Top with feta cheese, if desired. Enjoy with a grilled cheese or sourdough bread.
OurKindofWonderful