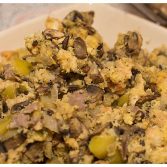 Cornbread Stuffing with Sausage and Apples
We've tried quite a few different stuffing recipes since being married, and this is K's favorite. I'm not a stuffing lover, or even a stuffing fan, but I make it each year because K pretty much gets a little kid seeing Santa giddy over it. We found this recipe from the awesome Pioneer Woman.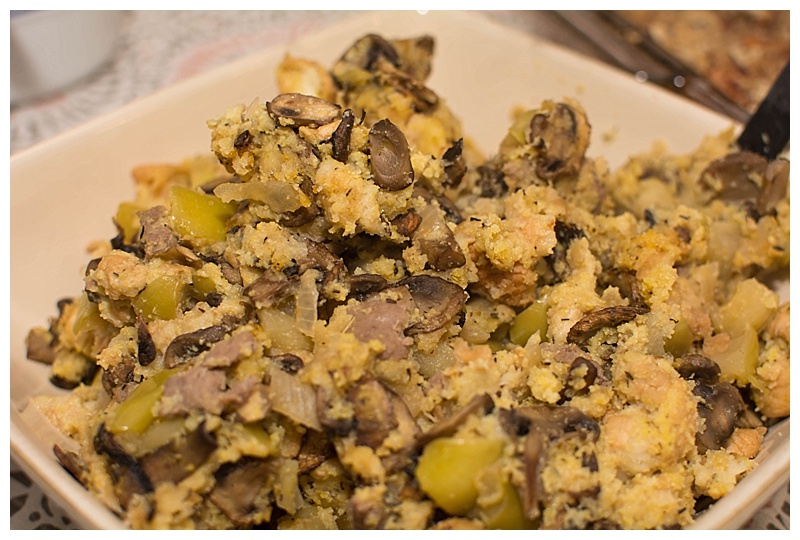 Ingredients
32 ounces, White Button Or Crimini Mushrooms
4 Tablespoons Canola Oil
1/2 teaspoon Kosher Salt
4 cups Cornbread, Cut Into 1-inch Cubes
8 cups French Bread, Cut Into 1-inch Cubes
1/2 pound Italian Sausage
2 cups Diced Onion
5 whole Granny Smith Apples, Largely Diced
5 Tablespoons Brown Sugar
1 cup White Cooking Wine
1/2 teaspoon Kosher Salt
32 ounces, low Sodium Chicken Broth
1 teaspoon Ground Thyme
1/2 teaspoon Turmeric (more To Taste)
2 teaspoons Rosemary, Leaves Minced
1/2 teaspoon (additional) Kosher Salt
Black Pepper To Taste
Fresh Parsley, Minced
Instructions
1
Preheat oven to 500 degrees.
2
Wash the mushrooms and pat dry with paper towels. Toss them in a bowl with canola oil and sprinkle with 1/2 teaspoon salt. Divide mushrooms between two sheet pans and roast in the upper half of the oven for at least 20 minutes, stirring once halfway through roasting. Remove from oven when mushrooms are deep brown. Set aside.
3
In a large skillet, crumble and brown the sausage over medium high heat. Remove sausage from skillet and set aside. Without cleaning the skillet, add in diced onions and brown for five minutes. Increase heat to high and add diced apples, brown sugar, and 1/2 teaspoon salt. Cook for 3 to 5 minutes, or until deep golden brown.
4
Decrease heat to medium and pour in cooking wine. Stir and cook to reduce liquid by half, about two to three minutes. Pour apple/onion mixture into a bowl and set aside.
5
Return skillet to medium heat (again, without washing) and add thyme, turmeric, rosemary, 1/2 teaspoon salt, and pepper. Heat for a few minutes, then set aside.
6
Add bread to a large bowl, then add browned sausage, mushrooms, and apple/onion mixture (and juice that might have accumulated.) Next, add broth mixture gradually as you toss the ingredients, being prepared not to use all of the liquid according to your taste.
7
Check seasonings at the end and add in minced parsley. Pour into a large baking dish (I used an iron skillet) and bake at 375 for 20 to 25 minutes, or until golden brown on top. (Or you can stuff the turkey if you're into that kind of thing.
OurKindofWonderful