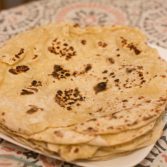 Homemade Flatbread
We discovered this flatbread recipe when the store was all out, and we needed some for our gyro dinner. K busted this flatbread out, and it was so, so tasty! We absolutely love it, and have had it multiple times. We've also tried rolling them thinner to use as tortillas and those were great too :].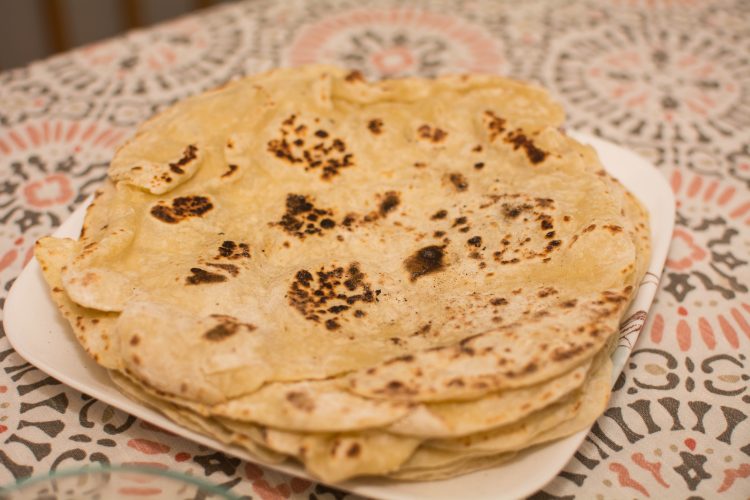 Ingredients
2 cups flour + keep ¼ cup extra for dusting & adjusting dough
½ tsp salt
3½ Tbsp butter
¾ cup milk
½ Tbsp oil (for cooking)
Instructions
1
Combine butter and milk in small pan and heat on the stove until the butter is just melted.
2
Add 2 cups flour and 1/2 tsp. salt to the butter/milk mixture. Mix to combine.
3
Sprinkle work surface with flour then knead dough for a few minutes until it is smooth - it doesn't need much kneading. Add extra flour if the dough is too sticky.
4
Wrap with cling wrap and rest at room temperature for 30+ minutes.
5
Dust work surface with flour, cut dough into 4 pieces, roll into balls, then roll out into about ⅛" thick rounds.
6
Heat ½ tbsp olive oil in a non stick pan over medium heat - or lower if you have a heavy based skillet.
7
Place one flatbread in the pan, cook for around 1- 1½ minutes - it should bubble up then flip and cook the other side, pressing down if it puffs up. You'll have smallish golden brown spots on both sides.
8
Cook all pieces this way, then enjoy.
OurKindofWonderful