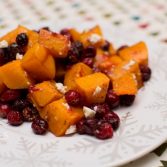 Honey Roasted Butternut Squash with Cranberries
Everyone that knows me knows that I love color, and when the food I make is colorful I get that much more excited. This side dish is incredibly colorful (YAY) and tastes amazing. This was one of my first recipes that I tried with butternut squash, and it's only gotten better from here :]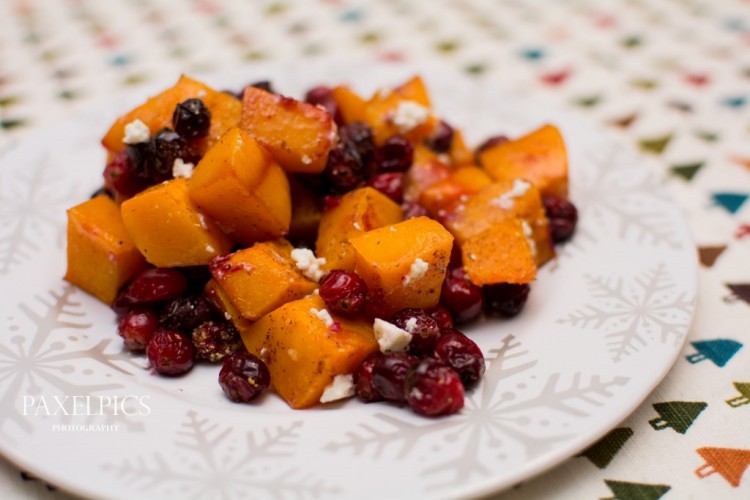 Ingredients
1 large butternut squash, peeled & chopped
1-2 Tbsp. olive oil
salt, pepper, and garlic powder to taste
2 cups fresh cranberries
2-3 Tbsp. honey
1/4 cup finely crumbled feta
ground cinnamon, to taste
Instructions
1
Preheat oven to 400 degrees.
2
Lightly spray a baking sheet with non stick spray, or olive oil.
3
Add the cubed and peeled squash to the baking sheet, and drizzle with olive oil. When you peel the squash, make sure to peel it 1-2 layers down, so that the skin is completely off, or you'll have some rather crunchy parts when done.
4
Sprinkle with a light layer of salt and pepper, and garlic powder.
5
Roast at 400 degrees for 25 minutes, on the center rack of the oven.
6
At the 25 minute mark, add the cranberries to the pan., then cook for an additional 15 minutes, or until the cranberries have started to burst.
7
Remove from the oven and add a sprinkling of cinnamon, about 1/4 tsp. along with the Feta cheese and honey.
OurKindofWonderful