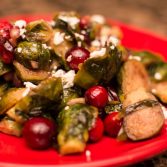 Maple Roasted Brussels Sprouts with Cranberries
Brussels sprouts have quickly become a staple in our cooking, and we even get excited to pick up a bag or 2 of them from Costco each month. I'd never had brussels sprouts until getting married. You see, my dad hates them, and he doesn't really hate any foods, so I just always assumed they were beyond disgusting. Then, one day, we had them for dinner at my in-laws, and I loved them! Since then they've been popping up more and more often in our meals, and we don't mind one bit.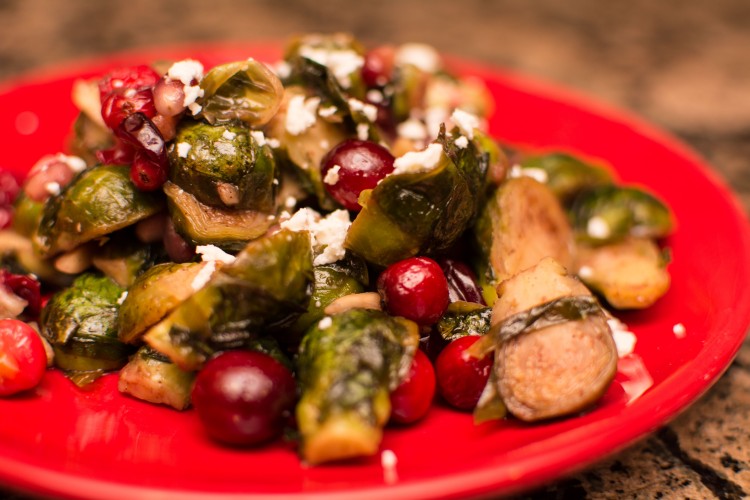 Ingredients
2-1/2 cups brussels sprouts, halved
3/4 cup fresh cranberries
4 tablespoons maple syrup
Feta Cheese, to taste
1/2 cup slivered almonds
Salt, to taste
Instructions
1
Preheat the oven to 400°, and grease a rimmed baking sheet or 8×8 baking dish.
2
In a large bowl, combine the brussels sprouts, cranberries, slivered almonds, and maple syrup until the brussels sprouts and cranberries are coated with the maple syrup. Pour the brussels sprouts and cranberries onto the greased baking sheet.
3
Roast at 400° for about 20 minutes, until the brussels sprouts are fork tender, stirring the brussels sprouts and cranberries halfway through the roasting time.
4
Remove from the oven, let cool slightly, add a few pinches of salt to taste, and feta cheese, and enjoy!
OurKindofWonderful