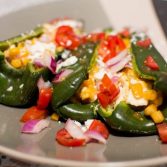 Poblano Stuffed Peppers
We had these the first year of our marriage, then have put them on the menu a handful of times since, but never made them. We finally got around to it, and they are soooo good! We also forgot that poblano peppers have a bit of a kick to them, which we love. These are crazy good, and you could easily substitute and use black beans and something instead of corn.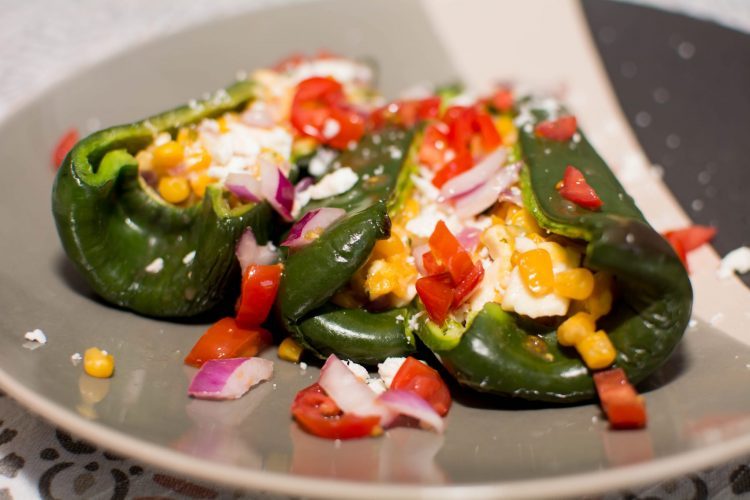 Ingredients
3 Tbsp. olive oil, divided
1 cup frozen corn, thawed, or canned corn
1 cup diced red onion, divided
3/4 cup crumbled queso fresco cheese
1/2 cup shredded Monterey Jack cheese
1/4 cup minced fresh cilantro
2 tsp. minced garlic, divided
2 poblano peppers
2 medium tomatoes, seeded and diced
juice of 1 lime
salt and pepper, to taste
Instructions
1
Preheat the oven to 450 degrees. Heat 1 tablespoon oil in small skillet over medium-high heat. Add corn and 1/2 cup onion; cook and stir 5 minutes. Remove and place in large bowl. Add cheeses, cilantro and 1 teaspoon garlic; mix well.
2
Make two long slits on front of each poblano to create flap. Lift flap; remove and discard seeds and ribs. Divide corn mixture evenly among poblanos. Replace flap; secure with wooden skewer, if desired. Place stuffed poblanos in baking dish. Brush skins with 1 tablespoon oil.
3
Roast poblanos 15 to 20 minutes or until skins are wrinkled and filling is melted. Meanwhile, combine tomatoes, remaining 1/2 cup onion, lie juice, remaining 1 tablespoon oil, 1 teaspoon garlic, salt and black pepper in medium bowl. Combine wit any extra filling not used when stuffing peppers. Serve tomato mixture with poblanos.
OurKindofWonderful