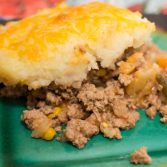 Shepherd's Pie
Shepherd's Pie is a classic, a recipe that it seems everyone had growing up. Most recipes I've found don't have many spices, broth, or anything to help add some flavor, but this one does! If you're like K you can top yours with capers (weird, I know, but he loves it). Next time we make it I'll be adding some chili powder, red pepper flakes, and cloves to the meat mixture, just for even more flavor. If it turns out I'll update this post – we don't make this very often though, so it'll be a bit.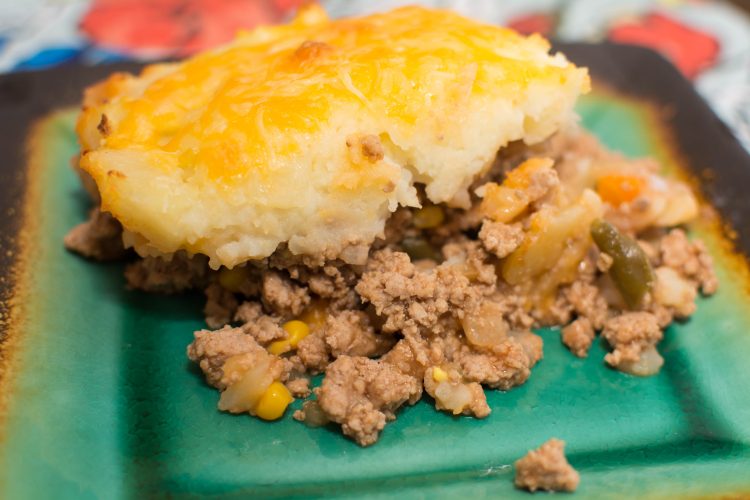 Ingredients
--Potato Topping--
3 large russet potatoes
2 Tbsp. butter
1/2 cup milk
1 tsp. garlic powder
--Meat Bottom--
2 lbs. ground turkey burger
1 small onion, chopped
2 cloves garlic, minced
1/2 tsp. salt
1/2 tsp. pepper
2 Tbsp. flour
2 Tbsp. tomato paste
1 cup beef broth
1/2 Tbsp. Worcestershire sauce
1/2 tsp. dried oregano
1-1/2 cups frozen peas and carrots
1/2 cup frozen corn
1 cup shredded cheddar cheese
Instructions
1
FOR POTATO TOPPING: Peel potatoes and chop potatoes, then put into a large pot of water and boil. Cook until potatoes are tender. (About 15 - 20 minutes)
2
Drain water from the pot, and mash the potatoes. Add butter, milk and garlic powder. Continue to mash until only a few, or no lumps, remain. Cover potatoes and set aside.
3
Preheat oven to 375° F. Grease a 9x13 inch baking dish with non-stick spray.
4
FOR MEAT BOTTOM: In a large 12-inch skillet, over medium-high heat, add ground beef,onion, garlic, salt and pepper. Cook and crumble meat until browned. Drain grease.
5
Sprinkle flour evenly over meat mixture. Stir and cook 1 minute. Stir in tomato paste, broth, Worcestershire sauce and oregano. Bring to a boil, then reduce heat to medium-low. Stir in frozen peas, carrots and corn. Cook another 5 to 10 minutes or until heated through.
6
Pour meat mixture into prepared pan. Spread mashed potatoes evenly over the top. Top potatoes with cheddar cheese.
7
Bake, uncovered, for 35 minutes until casserole is hot and bubbly. Remove from oven and let stand 10 minutes before serving.
8
Recipe by: http://life-in-the-lofthouse.com/shepherds-pie-cottage-pie/
OurKindofWonderful