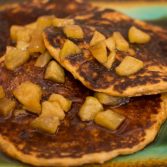 Sweet Potato Pancakes with Cinnamon Apple Syrup
We're trying to up our breakfast game over here, and we're loving it. Normally we aren't pancake people, at all, but these are sooo good. We LOVE them, and will definitely be having them again! The hardest part of this whole recipe is mashing your sweet potatoes. These pancakes also cooked a bit different, they still cooked up great, but after I flipped them I'd flatten them a bit with the spatula to keep them from being gooey in the middle, as they're a bit more moist with the sweet potatoes. And the syrup, so great. It's a bit sweet, so we add the apple juice to water it down a bit. Add more or less as desired.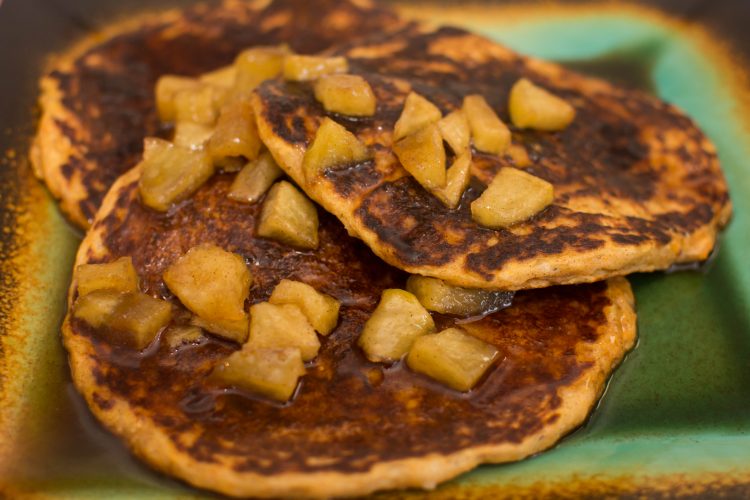 Ingredients
--Dry Ingredients--
1 cup all-purpose flour
1/2 cup rolled oats
1/2 cup sweetened coconut flakes
1 tablespoon baking powder
1 teaspoon salt
1/4 teaspoon ground nutmeg
1 teaspoon cinnamon
--Wet Ingredients--
2 eggs
1 1/4 cups packed mashed sweet potatoes
2 cups milk
4 tablespoons butter, melted
1/2 teaspoon vanilla extract
--Cinnamon Apple Syrup--
2 tart apples, peeled and diced
3/4 cup packed brown sugar
1/4 - 1/2 cup apple sauce
2 tablespoons butter
1 1/2 teaspoons cornstarch dissolved in 1/3 cup water
1 teaspoon ground cinnamon
Instructions
2
Start by preparing the syrup so it's nice and hot when your pancakes are done. In a saucepan, combine all of the syrup ingredients except for the apples. Bring to a boil, stirring to dissolve sugar and melt butter.
3
Boil for 1 minute then reduce heat to medium and add apples. Simmer for 10 minutes, or until apples are desired tenderness. Depending on how much moisture your apples release, you may need to stir in an additional tablespoon or so of water to reach desired consistency. Keep warm until ready to serve.
5
In a medium bowl, whisk together the dry ingredients.
6
In a separate bowl, beat eggs, then mix in sweet potatoes,milk, butter and vanilla.
7
Add dry ingredients to the "wet" ingredients and mix until just combined.
8
Lightly grease a nonstick skillet (butter, oil or nonstick spray) and heat over medium heat. Add batter to the center of the pan. Cook until golden brown on each side, flipping when the surface begins to bubble.
9
Top with Cinnamon Apple Syrup - Enjoy.
10
Recipe by: http://carlsbadcravings.com/sweet-potato-oatmeal-coconut-pancakes-with-cinnamon-apple-syrup/
OurKindofWonderful