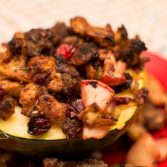 Acorn Squash with Apple and Cranberry Stuffing
This acorn squash with apple and cranberry stuffing is an amazing addition to most any meal, especially a Thanksgiving one. This is a K approved stuffing recipe – and is oh so tasty!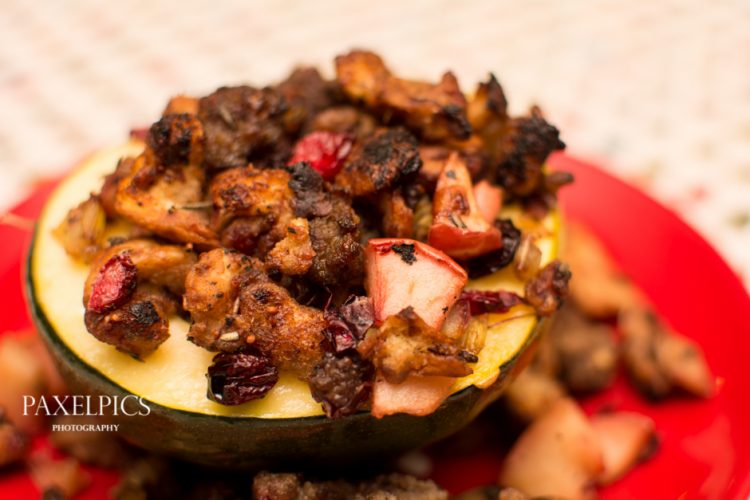 Ingredients
2 cups whole wheat bread
1 cup white bread
1/2 c. onion, finely diced
1/2 c. celery, diced finely
1/2 lb. ground pork sausage
1/2 tsp. dried sage
1/2 tsp. dried rosemary
1/2 tsp. dried thyme
2 Tbsp. parsley
1 apple, cored and cut into small chunks
1/2 cup fresh cranberries
2 Tbsp. melted butter
1/4 to 1/2 cup pure maple syrup
2 Acorn Squash
Instructions
1
In a wok, add a little bit of olive oil, turn heat to medium high, and add the onions, celery, and sausage. While browning the sausage use a wooden spoon to break it into small pieces. Continue cooking until the sausage is fully cooked.
2
Add the spices, and stir.
3
Add the apples, cranberries, bread, parsley, and butter.
4
Add the pure maple syrup, until you get a nice consistency. Stir, let cook for 10 more minutes, or until done to your liking.
6
Cut the acorn squash in half, scoop out the seeds.
7
Add a little olive oil to the middle of the squash, and use a pastry brush to brush it up onto the edges. Coat lightly.
8
Grab a baking dish, place the squash with the open side down. Bake in the oven at 350 degrees for 20 minutes.
9
Flip the squash over, and add a light layer of butter. Top with the stuffing. Don't be afraid to pile it on!
10
Bake for another 35 minutes, or until the squash is fork tender.
OurKindofWonderful