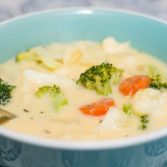 Cheesy Vegetable Chowder
Cheesy vegetable soups have always been a favorite of mine, but I've found they tend to be awful or amazing, there's no in between. So, finding one to master at home has been interesting. This one though, it's a win for sure.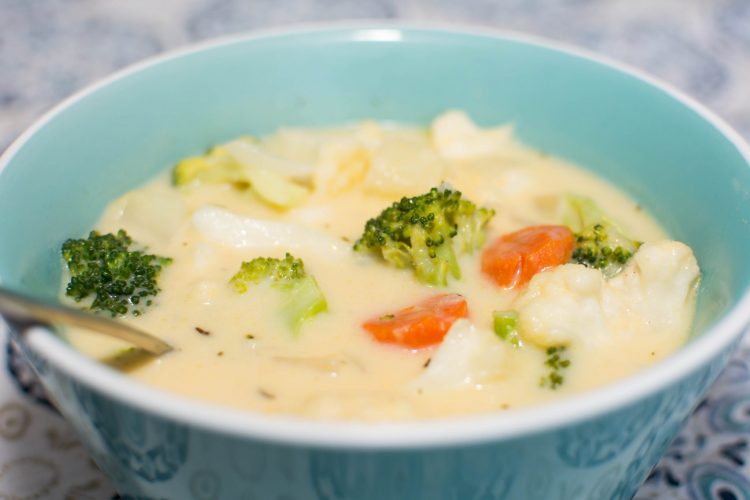 Ingredients
5 Tbsp. butter, divided
3 large carrots, peeled and chopped
1 yellow onion, diced
4 cloves garlic, minced
32 oz. chicken broth
4 large russet potatoes, cut into 1/2 to 3/4 inch pieces
2 medium head broccoli, chopped into florets
1 medium head cauliflower, chopped into florets
¼ tsp. dried thyme
¼ tsp. black pepper
pinch of paprika
pinch of cayenne pepper
6 Tbsp. flour
3 cups milk
½ c. half & half
2 - 4 cups shredded medium cheddar cheese
Instructions
1
Grab a large soup pot and heat it over medium heat. Add 1 Tbsp. butter. Once the butter has melted add in the carrots and onion and saute for about 4 minutes.
2
Add in the garlic, and saute for a minute more. Stir in the chicken broth, potatoes, thyme, pepper, paprika, and cayenne. Bring the mixture to a boil, then reduce it to medium, cover, and let simmer for 15 minutes, or until the potatoes are almost tender.
3
Stir in the broccoli and cauliflower, then proceed to cook for 5-7 minutes longer, or until the vegetables are tender.
4
While the veggies are cooking melt the remaining 4 Tbsp. of butter in a medium saucepan over medium heat. Once the butter is melted stir in the flour, whisking for about a minute. Slowly pour in the milk and continue to whisk vigorously as you do. Whisk until smooth.
5
Constantly whisk as the mixture comes to a gentle boil. When it begins to thicken add the half & half, then remove from heat and pour into the soup (after the veggies are fully cooked). Stir everything together, then turn the heat off. Gradually add the cheddar, stirring until the cheese has melted and the soup is nice and smooth.
OurKindofWonderful