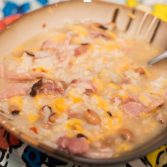 Ham Hock and Beans
Throughout the last 5 years K has asked for ham hock and beans anytime we've had ham, and I've found every excuse to not make it. Well, we had ham for Christmas this year, and, probably due to the holiday spirit, I agreed. He was so, so excited! My mom shared her recipe with me, and it was a huge hit! I struggled with the boiling the ham on the bone part, then pulling the meat off, just isn't my cup of tea. If we make this again K will be in charge of removing the meat, but other than that, which doesn't phase most people, it's so easy!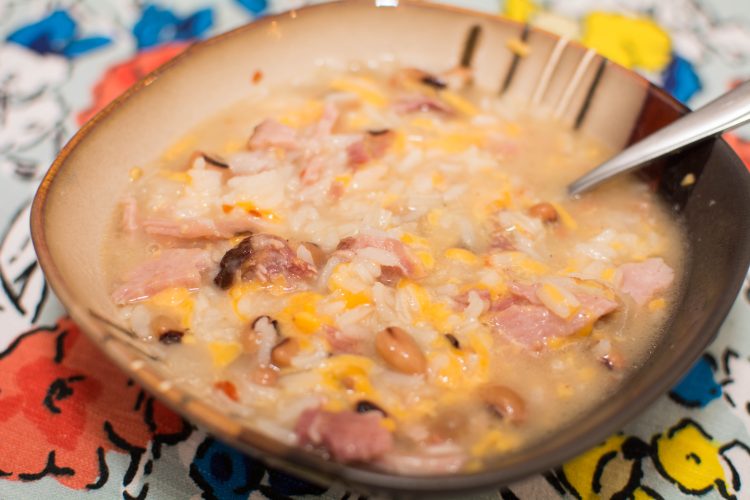 Ingredients
1 1/2 cups black eye peas
1 lb. ham hock
1 onion, chopped
1/2 tsp. crushed red pepper flakes
salt and pepper, to taste
5 cups water
1 1/2 cups long grain white rice
1 cup shredded smoked cheddar cheese
Ketchup, as desired
** 1/2 tsp. minced garlic, if desired
** 1 can Rotel tomatoes w/green chiles, if desired
Instructions
1
In a large pan place the peas, ham hock, onion, red pepper, salt, and pepper. Cover with water and bring to a boil. Reduce heat to medium-low and cook for 1 1/2 hours.
2
Remove ham hock and cut/shred meat into pieces. Return meat to pot. Stir in the rice, cover and cook until rice is tender, about 20-25 minutes. Season to taste with salt and pepper. Sprinkle shredded cheese over the top, and ketchup, if desired. Serve.
3
**If you want to add these ingredients, add them during step 1, then proceed as normal.
OurKindofWonderful